Silver Belle
January 18, 2010
Every girl in this school is probably thinking about the Silver Belle Ball about every 5 seconds, which is the same amount of time that 16-18 year old boys think about s** (impressive?). I think it's the most idiotic thing ever. I mean, it's a good idea with good intentions; take the pressure off the guy for once. But there's a reason guys usually do the asking.
Girls suck at it.
I mean, we freak out, throw things way out of proportion, and spend hundreds of dollars on clothing, jewelry, and accessories that we will never wear again in a moment of our waking lives.
And that's not even the worst.
We get up all this courage, think up some creative, cutesy way to ask some boy we've probably never talked to, and then nearly have a heart attack every time this boy LOOKS at you. Finally, when your friends have assured you that the boy of your interest will say yes OF COURSE because you're beautiful and funny and no one can resist you, you go up to him and nearly pass out while squeaking 'you want to go to the dance with me?' And the guy, being hopelessly unaware of your toil for this moment, says 'sure, whatever'. And then they never talk again until she needs to call and make sure his tie will match her ever so expensive murder weapons, AKA high heels.
Pathetic?
Its not like you're going to marry this kid. Chill.
If I was going to go, I'd probably ask a friend who isn't awkward or obnoxious and we'd probably have a good time. It'd be simple.
"Hey, you wanna go to this thing?"
"Sure, whatever."
Thankfully, I have an excuse to not squeal and whisper and make a complete fool of myself. I'm going on vacation. I get to walk around school on a cloud of 'I don't care' with a completely relaxed smile on my face while every other female in the building is either screaming/crying/laughing really high pitched annoying laughs that give you headaches for 10 minutes. Oh, the drama.
I am such a dude. What happened to my childhood? I was raised by men. I completely blame my mother. She simply let these boys go ahead and teach me how to play football, while she signed me up for hockey and bought me toy cars. That's kind of an exaggeration, but not really.
I'm not complaining, but I kind of am. I like being brutally honest and I-don't-give-a-flying-insert your favorite word for crap. I don't like being…left out? I miss all these girly butterflies-in-your-stomach moments. But when it comes to Silver Belle, I don't think I'm missing out on anything THAT important.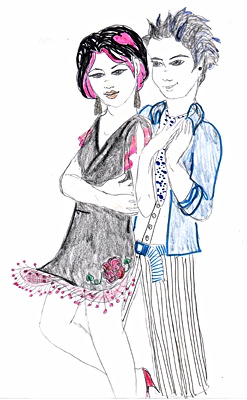 © Liza M., Vineland, NJ