Laughless
February 26, 2010
We all get depressed sooner or later. Usually for only a week or so, hopefully not for longer. Most people get help.

I haven't gotten help yet. Maybe because my situation is different. I don't have a regular depression. I am undergoing the depression of an optimist.

I am the class weirdo. Actually, make that the school weirdo. I am interested in strange things, like certain colors and certain mechanisms. I also laugh. A LOT. And I have an…um…irregular laugh. Most people think I'm weird because I'm really different, but I could care less. That is, until it happened.

It struck like a tidal wave. One second I'm happy and fine, laughing at random things, and the next second…BAM. I am suddenly depressed. I knew it was coming, since I was completely aware of my current levels of stress. I am, if you haven't already guessed, an optimist. It might be because I'm laughing half the time I'm talking, but I'm pretty happy, and being this happy, I'm more than willing to join every stinking activity at school. I don't MIND it, but sometimes, it just grows to be too much.

Today was one of those days.

I had been depressed before, but not like this. I just stared at times when I would normally be laughing my pants off, and ignored anyone trying to make social contact. I still worked and went to classes normally, but everything besides my very basic schedule was ignored, including lunch conversation with friends. Well, former friends. Along with the multiple activities, friends were also causing stress. I wasn't changing, they were. My best friend went from a fun-loving fantasy weirdo like me to a slightly-emo Twilight chick like my worst enemy. Don't ask me how it happened. All my other friends are maturing, too. Just not me. I guess somewhere in 5th grade, my brain just decided to stay in elementary school. I'm still school-smart. Just not social-smart. Just ask any of my "friends".

I'm pretty happy in the morning. I get up feeling energized. But my annoy-o-meter has been very accurate thanks to depression, so every time something goes wrong (aka, every few minutes) my mood gets a little worse.

So sometime in the afternoon, it gets to be too much, and the tidal wave comes back. My interest for laughter is replaced with constant staring. Half my mind is enjoying the darkness, the independence, the lonesomeness. Half my mind screams, "Get me outta here!!!"

People would ask what's wrong. Most people know of my strange personality, and my cold, laugh-less stares were enough for them to fill with shock. They would ask me what's wrong, and the dominant part of my mind would just stare. The other part would scream through my eyes, "Get me out!!! Help me!!! Right here!!!! Me!!!!"

But it didn't work.

It still hasn't.

And I don't think it will.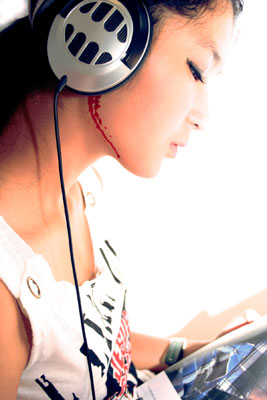 © Jiani L., Toronto, ON, Canada