The Enemy
July 17, 2010
It's funny how you can be with one person and believe all the wonderful things about yourself. For just a second, there is someone else to take the weight of the world from your shoulders. But then you go home to someone else and everything falls to pieces. You aren't a beautiful girl anymore; you aren't strong; you aren't loveable. You are a mess again. The weight is thrown against you. And the pain is enough to break you in half.

It's funny how someone can tell you that they love you and say that they miss you and make you so many promises, but every little shattered piece of happiness that you have left inside of you, they do all that they must to take it away from you.

I just feel so broken down inside. A day does not pass that I feel not the urge to cry. As I say this, I scold myself for being selfish. My life is by far not the worst. There are people starving and dying, but at the same time…. I feel like my soul is starving, my heart is dying.

No one should be subjected to this kind of pain. The pain of losing yourself to someone who cannot be trusted with your spirit. The pain of knowing you will never be good enough for them, and knowing that they will be sure to make feel as if you are not good enough for anyone else, not even yourself. They will tear you down and spit in your tears. And there is nothing you can do about it.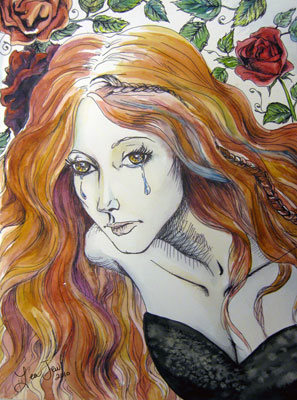 © Leonora J., Fullerton, CA