The past remains
August 9, 2010
We are in the car. My dad is going forty miles per hour, taking me back to my mothers house as I am silently looking out the window.
"Do you remember that day when I came to your school?" he asks from out of the blue. I don't look away from the window, and I clench my teeth. He looks at me quickly. "Do you?"
I nod my head, hoping he won't push the subject anymore. But he does. My brother is in the back seat, and as my father is telling the story, the memory starts to project in my head.
I was twelve years old, it was my birthday that day, and I was in my P.E clothes in the weight training room talking with my friends. A security guard comes in, and tells me that I am to go to the office. The boys ohh and ahhh, as if anticipating trouble ahead. I ignored them and almost skipped to the office. As I turned the corner, I froze. There sitting on a chair in front of the office, was a man in a suit, holding a present. I felt myself smile uncontrollably. Then he stands up, his grin getting big, and his eyes crinkling. I take another step towards my dad, but then remember my mother, and how much he made her cry. How much he made me cry. My smile vanishes, and as he is walking toward me, I run back to my class, hearing him say my name, hearing the security guard stop him from coming after me. I got back to class, and my friends saw my tears. The guys, out of curiosity, wanted to know what was going on. I didn't want to talk about it.
My dad's face was serious now. "Because of that, I decided to go to court, to get you guys back. If you hadn't done that Setareh, I would have probably let your mom still make the calls." I blinked the tears out of my eyes, and I started getting furious. "Then you shouldn't have left." I said, my voice on the verge of trembling. My fathers mouth gaped. "You were there! You saw her kick me out."
"You could of given her a second chance." I pointed out, knowing he had given her more than a second chance.
"She was cursing at me, I couldn't take it anymore. I tried. You even said to me, that if she disrespected me one more time, I had a right to go."
I remembered. "I was ten years old. I can't believe you actually left."
"Setareh..."
"You didn't try hard enough. You could have stayed."
I felt a tear trickle down, and slumped back on my seat, looking out the window so he wouldn't see how hurt I was.
"I promise you I did. There was nothing else I could do. She kept cussing at me, and putting me down!"
"You should have been there for her more; you should have appreciated her, or stop making excuses."
"I had work. I was supporting my family. How did I not appreciate her."
"You were never there for dinner when she cooked. You never called."
"Because I would always hear her mouth me!"
"It takes two to tango." I said bitterly.
He was silent. "Fine. Your right then. It was my fault too. Happy?"
I didn't want to talk anymore. I put my head on the window sill, and feigned sleep so I wouldn't have to remember it all again.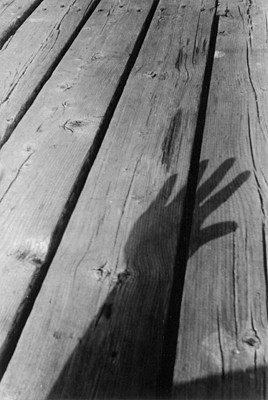 © Janet D., Marblehead, MA