Emotional Recovery
September 10, 2010
It was barely 2 am here, yet late at night there, August seventeenth. And where is 'there'? Fallujah, Iraq. When you live in Sunny San Diego, California near four different military bases, you aren't very surprised when you father in the armed forces is told he has to go to war. And even then, you aren't even surprised when the phone rings so early. In fact, you're excited. Six and a half months in, you're used to the early unexpected wake up calls.
But this call is nothing like the few that you received during the past half year. Usually, your mom answers and spends thirty long seconds expressing how much she loves and misses him; you and your sister get ten seconds each to do the same (and that's if your call wasn't interrupted by a loud bang that resulted in a lost signal, increased heart-rate, and another three weeks before you heard from him again).
And just when you thought that those calls were the worst, you made the mistake of waking up that dark August morning. Your bedroom door is closed, but you can see the hallway light on through the cracks, and you moms worried voice is seeping through. She's almost in tears and you aren't sure if it's worth leaving the comfort of your warm bed. You can't make up your mind, but it doesn't even matter because life slows down when your dad's life is constantly at risk.
Able to convince your feet to obey you mind, you open the door to see your mom, who was always a strong, decisive woman, now crying lightly. You look at her for a reassurance she can't and doesn't provide. When she hangs up just seconds later, your sister is standing next to you. You're trying to remember everything you just heard from the safety of your room, but adrenaline works against you. You vaguely remember your mom's controlled voice asking, "Are you hurt? Are you okay?" but nothing else registers through your brain.
You work up the courage to ask what was wrong, and your mom works up the bravery to answer.
He was hurt; blown up, wounded in action. An RPG (Rocket Propelled Grenade) landed just eight feet away from him. It sounds bad, but you hold onto the joy that at least he's still alive. You're told that he won't be the same, that physically he won't be as 'young' as before. But that's nothing compared to the Severe Post Traumatic Stress Disorder and Mild Traumatic Brain Injury he was diagnosed with. Then he comes home a month later. The physical changes barely heal, but still, even now, six years later…the emotional recovery hasn't even begun.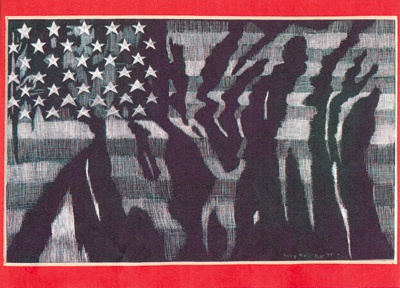 © Haley M., Ellinwood, KS