Memory's Of Adam
October 27, 2010
July 4th, 2007, Him and I were racing around the tree. The sun had begun to fall behind the hills and darkness was approaching. I stopped to catch my breath, and he stopped in front of me. With an innocent smile he grabbed an ice cube from the table and pointed to me, he knew I hated when he had ice and he was around me. For some strange reason Adam loved to put ice cubes down my shirt. He came closer and closer to me and giggled. I shook my head towards him trying to imply that the answer was no. he backed me up against the tree and touched the ice to my nose. "What a punk" I thought to myself. He then dropped the ice right by my shirt and I looked down to see if it was going to make its way in down my shirt, I felt his hand pull my chin up and right there he kissed me! The kiss lasted just a few seconds in reality but in my world it lasted forever, and I was happy that it did. When his lips left mine he stepped back and gazed down at me. Adam was a seventh grader and I was a sixth. He was extremely taller than me and always teased me about it. His eyes were a field of green grass and his smile was so warming I called it his 100 watt smile. Adams voice was like a soft snow falling but like a hard wind knocking you down, his hair was brown and long; I loved it that way. What I couldn't understand was how he could like me. I wasn't popular, I wasn't rich and I wasn't anything like some of the other girls he had dated. Maybe that was it, I was different that's why he liked me. I had known Adam for at least four years before he kissed me; we were the best of friends. He was like samba and I was Nala. Somehow our parents knew that we would somehow end up together some time or another, and we did.
We spent the rest of the summer playing around outside and just being kids. We went to the beach together and played in the sand. He taught me to play soccer and I taught him how to dance. Adam was a terrible dancer but he was bad in the cutest ways. By the end of the summer him and I had fallen for each other so hard me had the scars to prove it. It was finally time for school and I couldn't wait. We both went to the same school. It was Adams eighth grade year and it was my seventh. He was so excited to go on to high school but upset that he would be leaving me for a year. I told him that I was going to be fine and he can still come over and visit me. He agreed and was just happy to be with me.
On March 21st, 2008 Adam left for a camping trip with his family. That morning he and I had already had a fight. Things didn't fall into the right places and the fight just seemed to get worse. As he helped his dad pack up the R.V him and I tried to talk about some things. Soon enough our time for talking was up and he had to leave. I was going to miss him and I didn't want him to leave. 3 weeks without him was pain to my heart. He held me close and hugged me tight.
"I love you Merandia, with all my heart. I will try my best to call you or send you a letter. I'm going to miss you and I just want you to know that I love you; A lot." His lips moved so slowly and I just couldn't speak.
I smiled and kissed him. He gave me one last hug and goodbye kiss. I never wanted to let him go, he was my warmth and my world. I wanted to say I love you to him but I couldn't get the words out in time. Before I knew it Adam and his family were packed up in the R.V and had left down the road. The street turned silent, no cars or people were outside. I was alone, I felt a single tear drop slip down my face as I turned to walk back into my house.

The first time I heard and felt my heart shatter was the day I lost my best friend. On April 8th, 2008 my world crumbled into a million pieces. It was a normal Tuesday morning and a typical Tuesday at school. 7th period I began to feel very sick. My stomach twisted and turned in anxiety. The whole time I was on the bus ride home I could feel that some thing was terribly wrong. When I got off the bus and looked down the street I saw Adams car. I didn't think, I didn't speak; I couldn't. I ran as fast as I could down the street to my house to unite with Adam. As I walked up the drive way I noticed some thing strange. His mother was crying and Adam was no where to be found. I dropped my bag and began to demand in explanation to what was going on.
Again I felt and heard my heart shatter for the first time. Adam was not coming back. He had been crushed by a tree while camping and was killed instantly. As I listened to his father tell me what had happened I began to slip into a state of panic and separation anxiety. I couldn't believe that my best friend was gone.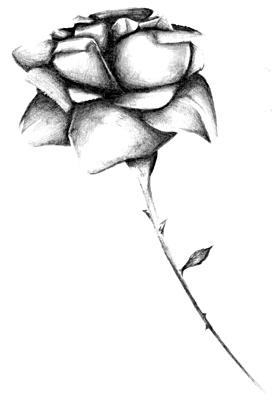 © Yisrawayl G., Philadelphia, PA