Rule of Thirds.
January 3, 2011
one: I want to write you a poem, but I don't have a metaphor, not even a cliché about breathing or roads less traveled. Furthermore, all the words I summon lack innovation. They are themes revisited: rocketships, insecurities, secrets, rings with tentacles, affection, history, coffee with revelations, the future, tests, the strength of friendship, unanswered questions, affirmation, the written word, doubt, the final countdown- and now, even my lack of new material tastes stale like recycled airplane oxygen. I breathe in and use the same words and concepts I inhaled an hour ago; I exhale and arrive at the same conclusions I reached yesterday. But now, the phrasing feels overworked, lacks dimension, tired, flat, dead.

two: At a nearby table sits two people well into their seventies. Cautiously sipping their lattes, they write the first drafts of wedding vows. (This is not metaphor or anecdote, this is truth.) The pastor arrives. Plans emerge. The wedding will last fifteen minutes; there will be no rehearsal. The bride would like an organ for her brother to play, but the church cannot furnish one, cannot even provide a keyboard. The bride timidly requests candles and dignity. Reasonable enough, I think, to ask for: warmth and light and respect. The pastor agrees. The groom, sporting an impressive mullet, says very little.
Personal details: the groom suffers from sleep apnea, the bride shares my grandmother's name, both are happily retired. Available twenty-four hours a day, they say, seven days a week. The pastor laughs, suggests that they meet at three am on Saturday, and the couple responds enthusiastically without recognizing the joke. They discuss bible verses, rings, flowers, attire. The bride says, "I don't want to die of embarrassment!" and it's a joke, but it's odd because she looks like she could die quite easily from embarrassment or perhaps a wind gust.
They stand to leave. The groom grabs his feathered cowboy hat and shrugs on a denim jacket. A name is embroidered onto the jacket in a style that reminds me of gas station attendants. The groom, Gino, takes his fiancé's hand and leads her out the door. They walk quickly with surprising vigor. Perhaps they are only sixty-five or even sixty. Perhaps they are in love.
As they stroll to their station wagon, the couple passes a pair of lesbians in their early twenties. Sporting matching short wiry haircuts and matching short wiry dogs, the lesbians jog away before I can take any further notes.

three: Surrounded by people and articles and conversations, I drink my coffee alone. My existence is questionable. I eavesdrop shamelessly; we could be friends, you know, but we aren't, and the tragedy does not escape me. When you ask to borrow the other chair from my table, I respond overenthusiastically. Validation! You walk away and I no longer feign existence. Graphite scratches love notes for strangers, and I now lack even the companionship of furniture.

It is not so bad. In fact, I rather enjoy it.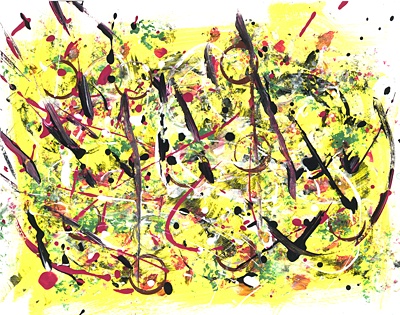 © Jeaunice B., Conyers, GA