My Best Friend's Eight Perfect Fingers
April 11, 2011
It was April 5th, a Tuesday, when I was walking through the hallway and I saw him--waving at me. Suddenly I got a flashback of last year, rushing through those same crowded hallways after final bell, hoping to catch a glimpse or him in those few fleeting moments before we got on our two separate busses, and delivered into our two separate lives.

I remember whispering rapidly to myself, "please be there", as I weaved in and out of people having conversations and the constant on-goings of the suburban high school around me. I remember, even further back, all the way to eighth grade, three years ago when still, he'd seemed so distant, even as I talked with him every day, back when we rode the same buss, and our lives weren't so separated. Back when we were friends; best friends even.

And now, him waving at me, I can't even contain my excitement as I realize that we are best friends again, so I smile, revealing two front teeth that I never grew into and dimples the size of marbles, but he likes my smile, so none of that matters. When we get closer to each other in the hallway, he holds up eight fingers--five on his left hand and three on his right--each one signifying one of the perfect months that we have been completely happy with each other, together. When he's standing beside me, he reaches his hand out, both of us smiling, and I, while feeing short up to my tall best friend, take his hand. We walk like that--similar to the stereotypical high school couple--, as we have this entire year, down the crowded hallways of our second home. With him there, it seemed less threatening.

All I can think of is that, that rhyme they taught you in kindergarten was right; the one that goes," Make new friends and keep the old, one is silver and the other's gold". I can honestly say, that in that particular moment, I had never seen anyone more golden.

I think of him, and of the eight months we've been together. It was never either of our faults for the distance between us, just a year at a different school, and a falling out afterwards--and I'm so thankful; I'm thankful for the pain that dug so deep for so long, and for the longing, and for the love that is assumed unachievable for those under the age of eighteen, that overcame it all. I'm thankful for every past fragment of time--both good and bad--because without each and every one of them, I might not have had this moment of watching him hold up those eight perfect fingers of his, and of me taking his hand while my mind worked in slow motion, making sure I remembered everything. But most of all, I'm thankful that the distance is gone, and that I finally feel like I know him, and he knows me too, and that's all I've ever wanted.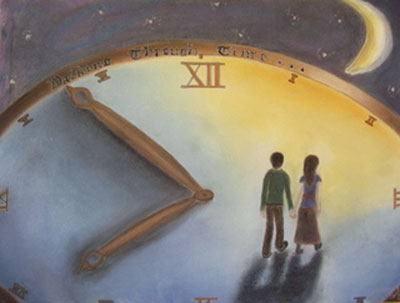 © Carollynn G., Hawthorne, NY