Will I Be Me Tomorrow?
July 24, 2011
Everything's going so fast; each day is passing by so swiftly. At one moment, there's a rush of excitement – new choices, new people, a new place…On the other hand, chances for wrong decisions also are growing, getting lost in not only the environment, but inside myself, as well. I have to keep close to who I am. The question is: who am I? One day, I am smart. The other day, I was tired. Today, I am a writer. How am I to make my decisions without knowing who I am? Wing it – not going to fly. I don't take chances. I don't upset those close to me. I keep myself happy by keeping their spirits up. How long can I keep to this motto and keep my own strengths high, as well as pleasing others?

Life; it passes by fast. Every moment, I want to smile. Every minute I'm not happy is a minute of sadness. Each minute of sadness is a minute of joy and splendor I will never get back.

How will I know what decisions will keep me smiling? I won't. I won't know which chances to take, and will never be certain of which deals to break. My inner self is still unrevealed. Will I ever find myself? Will I ever discover who I really am?

I try to please others, because their smiles are what force a smile across my face. It makes my day bright to see them shine. So is this who I am? Is this my purpose? My duty to fulfill? Am I hiding behind a safeguard; denying myself the chance to be free? No. Impossible…right? Do I want to be who I am now? I have questions never heard, opinions never shared, and a whole other part of me with different potential that no one's ever seen. So even if this is me, it's not the full me.

Some people say that I've changed, but the truth is that I'm just trying to find myself. Maybe this isn't me – but then again, maybe it will be me. It's hard to tell with the high demands of so many people if my decisions are mine. I just have to keep trying, though – I can't give up on myself. I must discover the true meaning of this life. But how am I supposed to in such a short amount of time given for living?

I know what I want; I just don't see how I'm ever going to get there.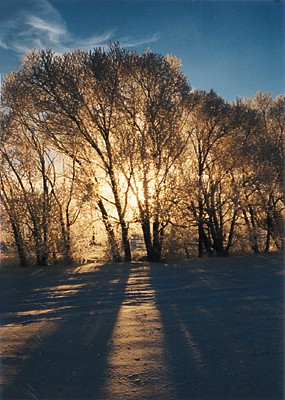 © Kyle G., Badger, MN