To My Heroes With Love
August 21, 2011
I've always been a troublesome child. Not the type most parents lost their heads for—I have never done anything illegal, not yet. I've never taken drugs, never got drunk, never lied to my parents to go to the latest pop concert and never got a suspension from school complaining about my behavior. I have shoplifted once, but that was back, when I was a little over three and my parents have made sure I had learned my lesson the hard way.




Yet, I am a lot to handle.

My temper fits for example, is something my family had to deal with before and now. My jittery behavior, my sometimes-irrational social anxiety disorder, my insecurities, and my lack of enthusiasm…I am God's cruel joke of a "perfect gift" wrapped in silver with a ribbon on top.

So today, I am going to try to admit all my wrongs and try to let you know that I understand what you're going through. I really do. I wish I could tell you all the words I am about to write, but you know best that I can't give a voice to my feelings without jumbling them all.


Mother, I know you love me, regardless of how many times I have failed you. I know you have woven so many dreams around me and that I have proven myself deficient in all of them. I am sorry. I apologize for not being the daughter you can boast about to all your friends. I know you had to struggle all your life, I know there are things you wish you could have changed if you were given a chance. I also know that, that is why you keep pushing me so far, because you want me not to make the same mistakes and do what you couldn't do. In some way, I am your road to redemption. But sometimes I am just so confused, nothing makes sense and sometimes it feels like its me versus the entire world. I am not naïve, I am just plain dumb but believe me, I am trying my best to be anything but that. When I am quiet, its not because I am shy or I am worried, its only because I am deep in thought. When I am showing lack of enthusiasm, its only because I am either lost in my own world, or its because I've had a rotten day. But don't you worry about me, you taught me to be strong.

I want to thank you for all the time you keep spending on me, all the attention you have placed on me. Its one of the most important and cherished things in my life. I want you to be aware of that.


Father, I want you to know that you are the strongest, most honest and hardworking man ever lived. I know you don't believe that, but you truly are. Thank you for constantly giving me chances, and being so immensely proud of me on the rare occasions when I make good of those chances. I apologize for all the times when I have embarrassed you, disappointed you, and the times when I fought with you knowing you were right. I am a teenage girl, and it is almost nature's law for you to get under my skin during these years, but that is no excuse. So I am sorry, even though I know you have already forgiven me long ago.

There is something more I want to apologize to you about. This is something I can never tell any one in person, let alone you, and for once, I am glad you are never going to read these pages, even though a part of me wishes you did. I am sorry for running away when you needed me the most. When you were diagnosed with Lacuner's brain stroke, I got so scared. We all were; you were the pillar that held the roof above our heads. I know that you too were terrified, in spite of the cool calm you kept up, the easiness of the way you said : "It's alright, everything is fine." You were trying to comfort us, when it should have been us trying to comfort you.



You lied to us, because everything was not fine. Far from it, the past six months had been a living nightmare for all of us. I don't want to imagine how it must have been for you. Under the thick haze of more than 15 highly dozed medicines, you were irrational, illogical and couldn't even think properly. You were practically out of your mind. And I was so rude to you back then, even though I knew none of it was intentional. I should have stayed by your side, gritted my teeth and gone through all of your ranting and shouting matches instead of shouting back and staying angry. It's just that, whenever I was around you, I would make a mistake and it would set you off screaming at the top of your lungs, and the day would end with you trying to recover from another faint and me in tears, while the entire world would be telling us to pull it together. Easier said than done. So I thought, maybe if I avoided you, you wouldn't get angry so easily and have another stroke. It was a stupid, selfish and wrong idea and I am sorry.




I am not sure if you remember those days; you can hardly remember what you had for dinner three nights ago. But if you do, I know that you wish you could take it all back. So, on behalf of the rest of our family, I want you to know that it's okay, everything is fine.


Lastly, I want to dedicate this part to my little sister. I don't have much to tell you, since you are only nine years old, but do me a favor, and at least try to be all the things our parents had hoped I would have been. I want you to choose your own way, but you should at least try. Know that no matter what, we will always love and be proud of our little princess. I wish you a long, beautiful, happy life—one where you can look back and have no regrets.


I am aware that many people are reading this, perhaps hundreds, every one except the people I have written this to. That's okay. My mother, father, and dear sister are everything to me. They are my life, my strength, my light in the dark and my brave heroes, but best of all, they are my home.


Love,

Beloved daughter and sister.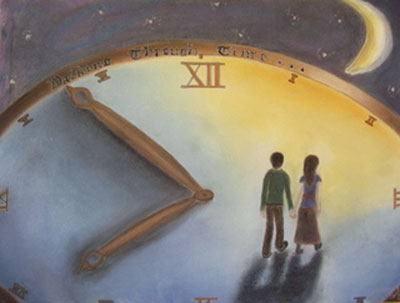 © Carollynn G., Hawthorne, NY