I will always remember you
September 4, 2011
The sound of flaring ambulances buzzed in my ears like a nightmare. I stared blankly out the car window on the way to the hospital. A whole rush of memories flooded my complicated mind. My grandmother's bright smile overlapped with her tired strenuous voice telling us that she was alright. The scene of my mom's shuddering body when she first heard that my grandmother had cancer, filled my head as my aunt's trembling voice replayed over and over again.

What happened on that ordinary summer morning frightened me. It had only been a few weeks since my grandparents moved in to live with my family. It had only been a few days, actually, since my grandmother had come out from the hospital. She said she was better, she really did, and we believed it. But that morning told us that she wasn't alright. Her short gasps grasped for even the smallest amount of air and my mom's trembling fingers dialed 911.

Everyone was waiting outside the school for my younger sister and me. We were to go to the hospital where my grandmother had been taken to by an ambulance that very morning. We were excused our classes for the day and quietly slipped outside to join the rest of our family in my aunt's car. Everyone was quiet and only the shaking of the car dared to fill the tranquil air. My grandfather's fingers were rolled into a fist and he quietly looked out the window blankly. My aunt and my mother both had puffy red eyes from crying and my young cousin just seemed to be looking down at her shoes.

The hospital was quieter than usual with only nurses passing by us occasionally. Our relatives were already sitting on the hallway benches with creases on their foreheads. My mom and aunt headed towards the room where my grandmother lay and I only saw a glimpse of the curtain that separated my grandmother from the rest of the world. My sister, cousin, and I were to wait outside with the rest of our relatives with rapidly beating hearts.

"She smiled peacefully before she left.", my grandmother's sister whispered quietly with tears streaming down her tired but hopeful face. Tears flowed down on many of our relatives' cheeks and I knew that my grandmother was loved and now in good hands.

The tears didn't come right away. It didn't feel real. No, I didn't want to admit the truth, didn't want to face the fact that she was really gone. My whole body went numb and that was when her emptiness really hit me. An empty hole seemed to burn through my young chest and pierce a hole that made it feel even more hallow. Her dazzling smile and peculiar laughter that made everyone laugh along, flickered inside my head like an old film.

Her funeral was held for the next few days. On the last day, her coffin was carried up the fatherly mountain and buried into the earth. Before her coffin was covered with soil, all our family members sprinkled white flower petals on top of the wooden casket while our relatives sang Bible hymns wishing her the best. My turn soon came and that was the moment when the emotions I had tried so hard to hold back shuddered violently inside me. Hot tears clouded my eyes as I quietly wished my grandmother luck.

I wanted her to see me graduate from university, apply for my first job, and stay by my side when I got married. I wanted her to always be there like a warm motherly stream for my mother and aunt who actually weren't as strong as they looked on the outside, a place to lean on when they felt like a child. I wanted her to always be by my grandfather's side so that he won't have to face the loneliness of her absence. I wanted to hear her compliment my noisy piano playing just one more time. Just once is all I would ask for.

Her body is no longer with us and she won't be there to laugh and talk to us, but she will always remain in our minds, our memories, and our hearts. I miss her dearly, I really do, and sometimes I feel as if she's just gone on a really long vacation and will come back one day, wearing her blue dolphin patterned summer dress and a shimmering smile on her lips.

I know she's up there in heaven looking down upon us. Her death affected us all but it also helped us grow mentally. I feel as if I haven't done much for her while she's done so much for me. But there's one thing I can do; I'm going to live a worthy life that will surely make my grandmother proud.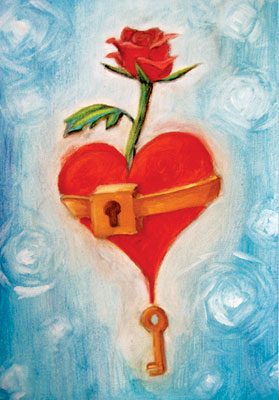 © Louisa L., Pleasanton, CA