I Like Art Museums
February 22, 2012
My sisters do not like art museums. I do. I find them fascinating, and filled with emotions overflowing. There's a good amount of poems and stories to be written after walking through galleries of square things on walls, and lumpy things in glass boxes. Inspiration almost wafts through the air like the scent of cinnamon and roses, or fine morning mist that leaves dewdrops on the grass, which is almost irresistible to take a picture of; like I said, inspiration.

One day my home-school went to a museum to see LEGO art. Cool huh? This guy named Nathan Sawaya has an exhibition travelling the country called The Art of the Brick. I took pictures of the sculptures with my phone, hope to upload them soon. My favorite might have been three huge masks, that make me think of Greek theater, one red, one blue, one yellow. The red one was excited, the blue one was content and the yellow one was surprised. At least that's how I saw it.

When you go on a tour of art museums, the indoor or outdoor kind, the guides will say one of two things. Option one: This piece is called river. The artist meant it to be like the river outside the house where he grew up. Can everyone see the river? Even though it's hard to tell, that's what the artist meant.
Or option two: Can anyone tell me what this is a sculpture of? Yes, it's a man. What's he doing? Do you think he's angry or relieved? What kind of meaning do you think the artist might be trying to portray? What meaning would you give it?

See the difference? I used to have a problem with people saying it was fine to make up your own interpretation of an artist's piece of work. You work hard on something, it has a particular meaning for you and you want everyone to see that meaning. Some people will just never see things the way you do, I keep discovering that. Recently, as I write, or draw or whatever, I find myself looking for more than just my original intent. A painting from one angle is a butterfly, from another, it's a face. I think that I'm satisfied if people read/see my art and just take something away from it, some emotion, some meaning, something of value. If it's not what I first had in mind, that's okay, just as long as it meant SOMETHING.

At the museum with the LEGO stuff, I went into one room that had all paintings by this one guy whom I sadly neglected to remember the name of. His art is oil paintings, and they're all done with splotches and paint in swirls and dollops sticking up off the canvas. I loved it! Up close, the colors mixes together in a meaningless way, far off and I saw a ferris wheel, a beach, a vase of flowers, a tree, or a crowded city street. I wish I could create art like that. Mix colors and splotches into something with a meaning. But that's not where my talent lies. My talent doesn't even reside in the poems that I love to pour off my fingers.

I love to write. It's the only area of my life where I do actually think I have potential to do something big, something awesome. An aspiring J. K. Rowling I tell people. Though, that's not very true. I'd really like to write like Shannon Hale. She is my favorite author why? Sure, I love her Books of Bayern, but even more, I love her style. I love her story-weaving. I love how after one chapter's introduction, you know a character, their feelings, goals, personality, how they talk. The intricate embroidery of dialogue and description has a song to it.

Okay, so I like to wax eloquent about writing. It's me. It's who I am. It's what I want to be, to do. I am a writer. And I like art museums; they color my mind and emotions; I breathe in the scent of cinnamon and roses and feel like myself.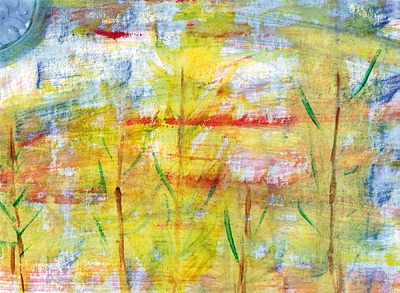 © Raymond G., Phoenix, AZ