The Truth of Goodbyes
April 23, 2012
Most people that I know do not understand at all the depth of feeling a person so hard and coarse as myself posses. My heart has broken so many times in the past ten years that I am surprised that it has managed to heal once again. Or is it just an illusion that it has actually healed? Sometimes I believe that I have never fully recovered and that each time my soul is pierced it just infects the wound more and more until I am immune to the pain and think that I have been healed.

Ten years ago my parents decided that they wanted to be missionaries in a foreign country. I was seven at the time and I did not want to leave my beautiful and comfortable life in Capron Illinois. I had three best friends, a gorgeous room with an awesome closet where I played dress-up for hours, a play house out in the front yard, and limitless space (or so it seemed) to play. I was happy, for the most part. When Dad asked us if we wanted to go to Mexico to live I immediately said no. When he asked why I just said no again.
After several weeks I began to grow used to the idea of leaving but I grew more and more worried about the new place we would be living. I asked my dad absurd questions such as, are there flowers in Mexico? Is there grass and a sun in Mexico? I wanted to bring all my toys with me but my parents made me give all of them away except for four or five selected dolls and beanie babies.
Then came the time to leave and I said my first permanent goodbyes. I did not understand fully what goodbye was until then. Goodbye at that time and now is goodbye forever. After I said goodbye to my friends and family we went to a missionary training center where I made tons of best friends in weeks. After seven weeks we all parted ways and even though we knew we would never see each other again we pretended that we would. This was only the beginning of what became a series of goodbyes for the next ten years. The cycle is always the same. You go to a new place, meet new people, become best friends, and then after a week, a month, or several months, you say goodbye. You try to stay in communication for the first few months or even years but that slowly falls apart and you're left without your dearest friends once again.
Of course you meet people in your host country, like neighbors and people in your church, but no one relates to a third culture kid like a third culture kid does. TCKs know what it's like to be dragged around and forced from their homes by their parents and their parents' company. They know how to make friends quickly and then at the end of it all they are experts at saying goodbye. And goodbye for a TCK isn't just a "see ya later" and then you see them next week. No, saying goodbye for a TCK is, "Goodbye, see you in heaven someday." Goodbye for us is forever. When I graduate and people ask me to visit and to go see them etc, my answer will be, "Of course! I hope to see you next summer!" When I know that this possibility has a very low chance against the odds. I will probably never see the people that I love ever again or at least for a very long time. It is hell, not being close to the ones you love.
As I grow older it becomes harder and harder not to dislike my parents for choosing a job that keeps me far away from everyone and everything that I love. Now do not misunderstand me, I love my home and I love being a TCK, but line between loving it and hating it is very narrow. I do not regret meeting the wonderful people I have met and had to say goodbye to a week later but it does not make the hurt any worse. How many times can a person say goodbye forever before breaking? That is my question. At times I believe I have already reached the breaking point and so will avoid goodbyes as much as possible, but I never follow through. That last hug and look in the eye, that last smile and word, those last few moments with a person you have grown very quickly to love and respect and consider your close friend, have become so important that to avoid them would be worse than the actual goodbye itself. I have tried to avoid seeing someone for the last time, but every time is a last time. Life is not forever and that is something I have had to come to grips with. Friends are not forever because you will have to leave someday. Long distance friendships do not last because one person will always fall through and you'll be left alone in the end. And heart break is relative. I say my heart has broken many times but this is not a true statement. My heart broke once, and that was with the first goodbye and everything after that just helped to keep the wound open and bleeding. My heart is broken and bleeding and it has been so since I took that last look into my bedroom on that early morning when we left our house in Illinois back in 2002.
I don't hate my parents or their job. I don't even hate myself. But I hate my vulnerability. I hate how easily I find myself loving people. I hate how when I say goodbye I can't cry. Sometimes when it is too hard to bear quietly I do cry, but it is seldom, so seldom that people think me strange when I do. I hate the word goodbye and I hate saying it. To me it is worse than any cuss word or profanity in modern language. To me, it is a glimpse of hell.
My heart is broken, bleeding, and numb. I love my life and hate it all at the same time. When I am in one country I miss the other and when I am with one person I miss another. My life will always be like this because no matter how good life can get I will always miss someone or something. God has just been too good to me and has given me so many people that have touched my life and made me into who I am now. But God has also not spoiled me because almost as soon as I find myself attached to these people He pulls us apart. Sometimes I ask God why he does that but I have found no answer. All I know is that I am a TCK and that's the cross I have to carry; the cross of goodbye, the cross of loneliness, the cross of miles.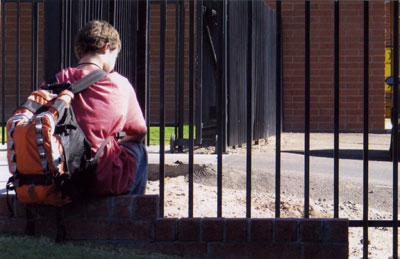 © Molly L., Phoenix, AZ