Taking My Own Hand
August 11, 2012
When I forget who I am, I slide a dozen old photo albums from the top shelf one by one, and flip through them in silence. I was a cute kid when I was young. Crazy curls flying all over the place, a goofy smile, bright blue eyes, sparkling, mischievous.

There I am, sitting in a field of flowers, the whiteness of the small petals popping out against the green of the long, uncut grass. I'm holding a flower against my face and giving a close-lipped smile to the camera, trying to look cute. I must be seven or eight. I still remember when that picture was taken. In another one, I'm standing in front of a fountain, baring my teeth and nails like a puma, my hands full of soapy foam.

The world was such a beautiful place when I was little. The future was full of promise and magic, whereas now it is full of terrifying unknowns. Love meant happily ever after, now it just means inevitable heartbreak. In retrospect, little things seemed like the end of the world, because my small eyes could only see so far, but wasn't that better than having to deal with the big things? I'd still rather worry about getting dirt on my new shoes than getting into college.

When I forget who I am, I try to remember who I was before I became so lost, so caught up in my own fear. I try to find my roots, because I've grown so tall since then that I can barely see the ground. Somewhere, sometime, there was a little girl who was so happy. She didn't care so much what others thought about her, she didn't feel so overwhelmed.

So I reach for her, in the bottom of my soul, and I take her hand. Or she takes mine, because I can't tell which one of us is stronger anymore. I bridge the gap between us, so that I'm not so alone.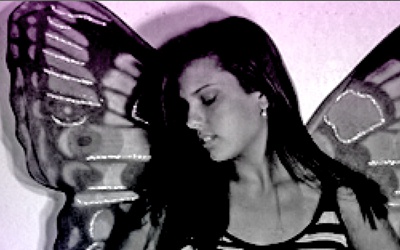 © Kathleen M., Rowlett, TX