Who I Am
November 18, 2012
Hi. My name is Becky. I'm a little different, but I'm proud to be who I am.
Except I didn't always know who I was.
I read once that a girl has 4 types of personalities; one with her family, one with her friends, one with her boyfriend and one at school. Which is the one that resembles me most? Well, I've never had a boyfriend, so I've never had that personality. I act at school the same as I do with my friends, so that only leave two choices. The friend/school persona or the family one.
Truth is, I'm still not sure. Who I am depends on who I'm with.
So who am I with at the moment?
I'm with no-one. I'm alone. So what's my personality now?
That's easy for me to answer. Years ago, I had no idea how to describe me. When you had to do those daft activities at school with worksheets like 'What You Enjoy Doing', 'Your Culture' and 'Your Life', I always struggled, watching with envy as my friends would scribble away. I would write the usual, you know, 'I like to watch TV' or 'I love my mom and dad'.
Despite the fact I did those questions at the age of 5, 10 years later I find myself presented with the same worksheets and tasks, so teachers and employers know about you. I guess the simplest things are the most important.
Luckily, I found writing. I don't write for anyone, not for my parents, friends or myself. But I still do it every day, in my head, pen to paper, on my phone, on my laptop. It's like the best friend I never had. It helped me discover who I was, whether I was happier with my friends or family. The words are a reflection of my traumas, hopes, dreams and failures, each exaggerated a million times more. They are my safety blanket, my sweet escape from reality.
So, I go back to the question, what's my personality?
"I am who I am, I am who I was, and I am who I will be." The answer is, my personality is in my writing. It's creativity, reality and organisation. It's smiling, crying and anger. It's creating, deleting and writing. I am neither happier with my family or friends, only with myself. That is the only time when I am truly me.
So I'd like to remake that original statement I once read. A girl has 5 personalities, one with family, one with friends, one with a boyfriend, one at school and one with herself.
I don't write because I'm told to, or for anyone else's pleasure. I write to find who I am.

So who are you?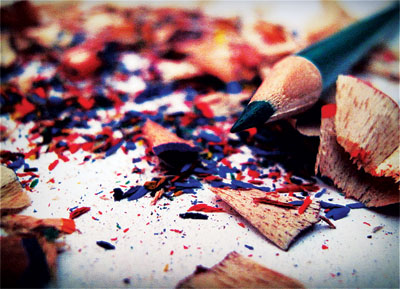 © Rosalee M., Lowell, MA