The Other Side of Love
December 16, 2012
You're completely at their mercy. They've become the king or queen of the world. Life changes perspective, it becomes a game. Winning is being with them. But as soon as you start playing, you know you'll never win; there might be some doubt in your favor and for that trifling amount of time your overcome with this unbelievable hope. Nothing else matters, the game becomes a reassuring puzzle on your shelf. It might be difficult, but you're certain that it's only a matter of time before you get up the nerve, take the time, and correctly and quite magnificently arrange the pieces. It's just a matter of time before all the pieces slide next to their corresponding neighbors and you become the first to view that long awaited picture.

So for a moment or three, life has a meaning. Life is wonderful, you've finally understood what all those poets and song writers were so la de da about. You truly are your own master. After all, all you have to do is solve the puzzle and win the game.

But suddenly one day, the world stops turning, love songs lose their meanings, and the birds stop chirping mid-flight. You find that you counted wrong; the puzzle is incomplete, it was only beginners luck at the start of the game. You'll never win. Life has lost its meaning, yet again.

You thought you were headed to this new world, with new colours, purer air, bluer skies, clearer water. Ha, and what was that about being a master; face it friend, you no master, you're a disaster.

So it's back to dreaming, toiling, working, all in vain.
There's no hope. You're living but for what, to one day return to the dirt you so meticulously wash off at the end of every day?

Yet you somehow manage to go on at least breathing, but your heart and your hopes have become as shattered as the logic of this world. Now you must somehow go on and make yet another attempt at this "happiness" you once believed in.

?

And so this, dear reader, is the saddest love of all, the other side of love. The one without a chance, with a short romance and definitely without a happy ending. The hopeless, unforgettable kind that forever linger; the one that's not a love song, but can't seem to say goodbye.

And unfortunately, it may be dozens of people's love of their lives, that for whatever reason never became part of their lives; although, it very much became a broken part of them.

So at night when you say your prayers, don't just thank God for your family and friends, and ask for a sincere faith, which is all very well, also say a prayer for those who don't sing love songs, but can't say goodbye.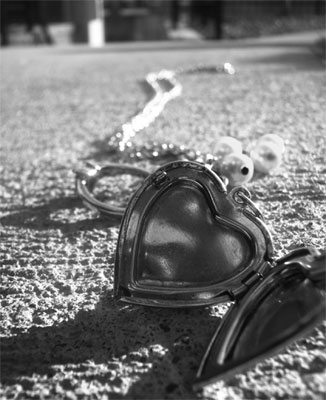 © Francesca Y., Robbinsdale, MN