Cold Sidewalks and Local Sunsets
March 28, 2013
My best friend and I are not suicidal. We've talked about it before, dismissing the idea of ending one's own life but embracing the vast possibilities of not existing, free floating in a state of un-being and not even realizing it. These thoughts are the kind that swallows you up in the bitter realization that you are in fact, all alone, that we are all alone deep down inside and unable to reach out to any unfamiliar face that may pass by us.

When I get sick of my life, I plow through cold sidewalks in the rain. When I feel like running away, I toss my journals and a few Bronte novels into a bag, then pretend, hide above the red slide in the children's playground. Think about the adventures I'd have if I got into a stranger's car and left, leaving behind the local sunsets and rain streaked, frozen footprints in the sidewalks. Know that as many times as I play the scene in my mind, no friend will find me and take me home. I'm ill-equipped for escape, always waiting to be rescued before giving up and finding my own way home. Sometimes the door will be locked and I can't bring myself to ring the bell. Where do I go then?

For me, there has always been a place to go back to. And maybe five years from now, when I've received all the accolades I was expected to achieve, this little episode will be long forgotten. It's a strange place that people like myself occupy in this world. We do not live in war or poverty, we are not abused. Still, the future that looms before us in our privileged lives, the uphill fast track to the possibilities of success, maybe, is what keeps us from running away or even taking a brief respite from it all.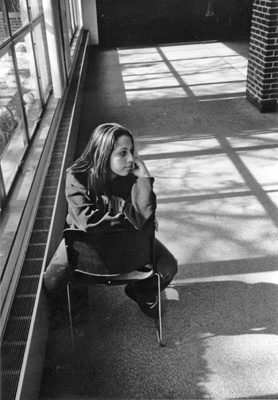 © Leighann E., Westport, MA