Dreamland
September 19, 2013
As I sit in my backyard, buried in the fumes of fresh cut grass, the world seems so perfect. The wind gently tickles the orange tree above me. The leaves below my feet- some would say dead. I would say… revived… Into a beautiful golden-brown.

I climb the old plum tree. The bark chipping, crackling as I step onto it. I lean back into the spot that I often choose. It is almost a bed to me. As I close my eyes, I slowly drift away into another world. I collect my thoughts in this world. In this world, I can dream up things I have never thought. Perhaps mom had needed me to wash dishes. Perhaps I had been expected to clean my room. But who cares? I was in my own world. Being 'needed' doesn't exist.

The wind searched through my hair, as if trying to find something it never would. Slowly, I opened my eyes. A new smell filled the air. The sweet smell of the sunset. I love the humidity. I thought to myself. Looking to the west, the wind blowing from the same direction, it was as if the setting sun was sending me a message. "Smile." It seemed to say... Smile.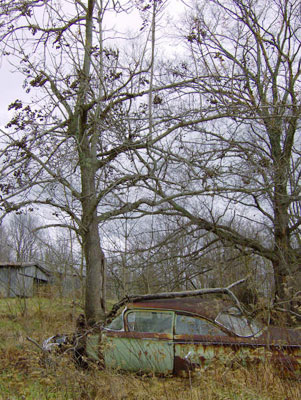 © Kimberly H., Summer Shade, KY