The Chemicals React
December 30, 2013
I've heard stories of when a boy and a girl lock eyes and suddenly everything stands still, and I'm sure you have, too - but I never knew how real those moments could actually be.

No one's ever looked at me like that before.

Now that I think about it, people seldom look each other in the eyes when having a conversation these days. It's like we're scared of each other, or of being judged by one another. Maybe we don't make eye contact because we're intimidated. Or maybe most people really, genuinely just don't give a crap about looking people in the eyes when speaking to them.

But today, he looked at me.

I don't mean a glance in my direction in the cafeteria, or a peek from above his notes in class, but I mean he really looked into my eyes. It was like he was trying to reach my soul, see what I'm hiding in my mind behind all the laughs and smiles.

And I stared right back into his baby blues, trying to ask through the loud scream of my pupils, "do you love me?" He kept staring, and so did I, and we held our gaze for minutes, trying to penetrate each other's walls, and dive deeper into each other's souls.

And you know what? There was not one moment when he looked into my eyes and I could feel the chemicals reacting that I felt intimidated, or scared, or nervous. Honestly, there in our own movie scene where our eyes locked and my world stopped spinning, it was the first moment in my life where I felt really noticed, really alive. It was the first time that I felt someone really knew who I was.

No one's ever looked at me like that before - but I could get used to it.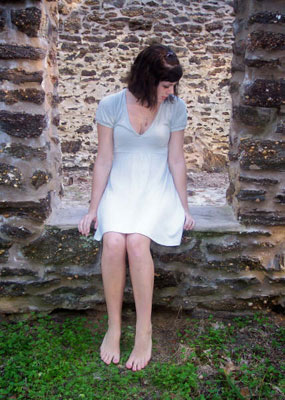 © Katie S., Vineland, NJ