Your Perfect Imperfections
December 30, 2013
I'm still feeling warm and fuzzy inside, your image engraved in my mind like a tattoo. Everything about you is perfect to me; all your imperfections are what make you flawless in every way. I love that your eyes change colour in the sunlight, and the way your big, pink lips break into nervous laughter after uncomfortable encounters. I love the sound of your laughter, your voice on the phone when you call me - sweet and yet, in your own way, flirtatious. The smile that stretches across your lips makes me mimic your expression, grinning from ear to ear, especially when you stand there on the sidewalk, just waiting to hug me hello. It's aways comforting being around you because I know I can just be myself, and you'll still like having me around; I seldom feel that way.

Every time I see you again, all these feelings just flood back. Every time you run towards me, waving and smiling that playful grin, it's the cutest thing, and my heart can't help but do backflips.

I wonder what you think about when you see me. When I bat my eyes, do you know they only want to be staring into yours? Do you count the freckles on my face, and know every colour in my eyes? Do you wish you could talk to me all day, my voice on the other end of the phone line for hors, the only thing better being, being together? Do you wish I would sit closer to you so that we could feel each other's warmth through the fabric of our clothes, circled around each other like blankets, holding each other tight? When I laugh, do you like that small, breathless gap in between my chuckles? Do you find my imperfections as perfect and hypnotic as I find all your little quirks, and do you ever just sit behind your window, staring out at the rain falling against the grass, and think, "if only she was here," ringing like a broken phone on dial? Because whenever I feel happy, or sad, or confused, or just want to share my thoughts about this perfect world full of imperfections with someone, all I can do is think of you, and the sound of your laughter.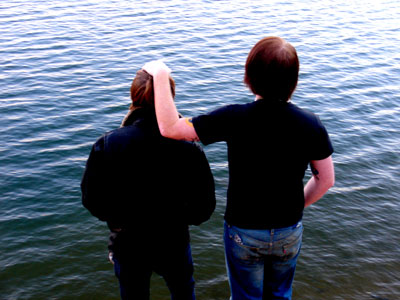 © Michelle B., Blairsville, GA