My Mother Warned Me
March 25, 2014
He had eyes full of feeling, and his words were drugs that he fed to me daily. Every time we were apart, my heart became the empty case that held the pills, needing to be refilled.

He was the one my mother had always warned me about. She told me one day as I was five years old, sitting on a seesaw with her in a park, that one day, I'd meet a guy who'd tell me I was pretty - he'd whisper sweet nothings into my ear, and he'd bake me cookies. He would email me every day and he'd want to spend time with me and make me feel special - but he would never call me his princess.

My mother warned me about him. She told me that when I turned sixteen, I'd fall for a boy who loved life a little too much. He would adore his mother, brother, family and friends like Dumbledore loved the wizards at Hogwarts and the hobbits loved the Shire. She told me he would go out every weekend, and I would love that he was so free, like the wind. He would hold me, and whisper drunken words into my ears - but he would never ask me out.

She warns me, telling me that when I go to college, I'll meet a boy who's hands will create masterpieces on paper, as well as my spine, his new canvas. He'll tell me my lips are his favourite medium, and that he can't paint a picture without their unique texture. He'll tell me I'm his muse, the one who inspires him - but he will never dedicate a sketch to me.

My mother keeps warning me that in a couple years, I'll meet him - a man who will make all the others worthwhile, all the mistakes into lessons. She says he will love me. She tells me he'll bake for me, and pass the days by my side. She says he will be the type to get high on plain living like they used to in the Outsiders, and he'll read me my favourite books. He will take me out every weekend and introduce me to the family he holds so dear, and he'll make me feel free of my past, ready to roam the world like the wind. He'll hold my heart in his hands, and his fingers will trace designs on my palms, sending electric shocks down my spine, I'll be his inspiration, and he will create abstract collages to hang on our bedroom wall because I make him unable to think straight, and he'll sign the original piece with my name on the back of the canvas.

My mother warned me about him - the one I'll find someday: she says he'll call me his. And so far? Her predictions have been right.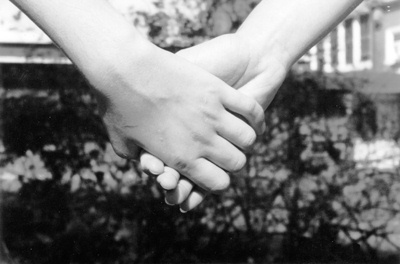 © Lauren G., Pompton Plains, NJ