How I Met Poetry
MAG
April 1, 2014
I never intended to fall in love with poetry. The stress of perfecting each syllable required too much perseverance and too many late nights. For years I scrawled school-assigned poems hastily on the backs of math worksheets, always good but never good enough for my teachers. Putting words into exact order, with each letter balancing the next, used to be an arduous chore with no more of a reward than one receives for washing dishes. But spilling my emotions into sentences in front of a crowded room of outsiders changed me as a writer.
To say that my school's Slam Poetry Club was minuscule would be an understatement. It had four members. I joined not out of noble interest in the art of poetry slamming, nor the value of its appearance on my college résumé, but because the club leader was cute and said he liked my writing. Granted, he called me by the wrong name and was desperate to increase team morale, but that was good enough for me. I showed up to every meeting, not caring that I didn't have a single poem to show for myself.
The problem arose when the team leader announced we would organize the first annual Teen Word Poetry Slam. I still hadn't read any of my work to the group, mostly because my artfully decorated poetry notebook was full of blank pages. I was not a poet, and soon someone was going to call my bluff. So I did what any panicked procrastinator would do: I wrote a three-minute slam poem overnight.
It was great. I could just tell it was. Now all I had to do was recite it by heart in front of a hundred people.
My poem, "An Open Letter to the Chinese Cashiers at Whole Foods," was exactly what I wanted it to be. It was edgy with a sprinkle of sass to combat the racism and cultural differences that slam poets love to rant about. It wove anecdotes into my identity issues around being an adopted Chinese American. Most importantly, it added something to the nothingness in my poetry folder and could be memorized in a week. Unfortunately, I was too scared to show it to anyone, so I mumbled it to myself while walking my dog, ignoring the nervous glances of pedestrians who were convinced I was insane. I swear even in my sleep my hands imitated the gestures I had practiced for hours on end.
The day of the poetry slam finally arrived. My palms were all sweat and tremors, and my knees refused to let me sit down. I paced the back of the room until my number was called, pausing occasionally to stuff cookies into my mouth to stop it from practicing my piece. The moment came that I had prepared for my entire career as a poet (half a month). I stepped onto the stage and adjusted the microphone. Taking a deep breath, I looked over the heads of strangers and let the first line fall from my lips.
I had prepared for days on the off chance I forgot the words and had to make the mortifying trip back to my seat to find the printed version. What I was not prepared for was the utter calm I felt standing in front of classmates and strangers, telling them the fears and musings I was still scared to confess to my parents. For the first time, I felt completely understood by everyone in the room. I was safe in their silence and their gentle murmurs of approval, and held close by their snaps and whoops.
The end of the poem, a brief translation of Mandarin Chinese that I had looked up the day before, fell in front of me before I could even blink back the spotlight. For a moment, the entire gymnasium of enthusiastic poets didn't have a word to say. At that moment, I knew I had succeeded.
The awards ceremony was brief. I finished second, behind a hippie girl without shoes. I won a gift certificate to a wonderful bookseller, but that piece of paper was no match for the praise given to me by the audience members. Some complimented my performance; others said they were furious I had not won. Little did they know that winning did not matter at all. I had given them words and they had given them back to me. I was flying high and ran home desperate to put pen to paper again.
If words were a drug, I became a junkie. I breathed in rhymes and exhaled alliteration. For days after the slam I sat at my desk, tearing through page after page trying to recreate the rush of perfecting a masterpiece. After that night, I had a greater understanding of why people spend weeks writing the perfect poem just for one showcase. I got why those four team members went to meetings even when no one at school appreciated their hard work. It's for the moment of connection between the poet and the reader, when everything suddenly makes sense and each line brings you closer to knowing each other.
Hoping that readers will find themselves in my writing is why I hunch over my computer in the wee hours of the morning, riding a wave of creativity until my brain betrays me. It's why I keep pestering my friends to join Poetry Club, even when I know they will never show up. It's why I write.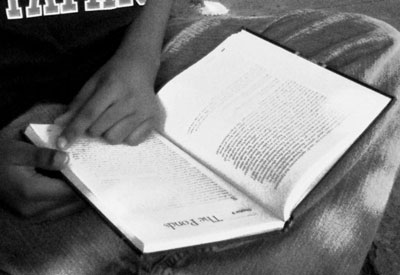 © Allan L., Plano, TX