You Only Fade
July 15, 2014
I am no longer infatuated by you, nor do I crave the taste of your lips on mine, but I am no where near free of your hold. Why do I care what you do, after all this time? Why do I depend on your familiarity, like a child, comforted by the face of her mother in times of trouble?
Every time your actions come into question, I turn into Sherlock Holmes, searching for every detail I can scope out. I should not depend on you anymore, but I'm not that strong. You are the last few scars on my skin that just won't heal, the wound that fades, but never seems to vanish. You're always on my mind, my unconscious thoughts as I drift off into dreams when the world goes numb.
You make me want to drown myself in bottles and bottles of hard liquor, because water is simply not thick enough to block out the thoughts that overtake me.
Perhaps it is the fear of never being good enough that makes me so attached to you: you were the one I've never proven to be enough for, though I gave you everything I had and made deals with the devils to catch your eye - no flame, and no passion I possessed ever enchanted you enough. I am a paradox with you - cared for, but never truly loved, and yet you made me feel as though I was different, like a buttercup in a midst of a bunch of weeds.
I can't handle you making another flower feels special, more than I was to you - but I guess a blossom in any other garden has a better chance than mine will ever be.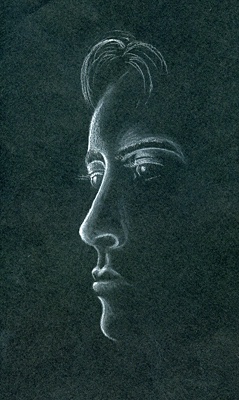 © Carlos S., Glendale, AZ