A Precious Place
August 5, 2014
I love sitting down by the pond, no one else around. Just me and nature alone. It makes me feel as if I'm part of something other than drama. The serene landscape just melts all the stress away like candle wax.
The way my weeping willow just skims the surface, dancing like a fairy makes my heart swell with pleasure. I always have believed it moves on its own.
I adore the smell of my neighbors overgrown honeysuckle vines that climb over the fence with ease, crawling out through the strict boundaries just to greet me.
I wish I was there, painting pictures in the smooth mud with my bare toes, frogs and dragonflies kissing my pale flesh as they rest.
I have memorized the way sunlight shimmers over the rippling water. so tranquil and perfect that the very thought makes me smile.
The fifty birds in the yard, all wanting to share their beautiful songs with me, as the musical notes mix with those of hidden fluteplayers.
I know the nymphs and naiads who spend their time here so very well. All the elves that blend in like living shadows too.
This is my happy place I go too when I feel so broken down. This is where I live, the pond in my backyard.
But I can't hide out there forever; my mom will call me in after a few minutes of my heaven, making my special place seem like a haven that only exists in my dreams. After all, it is where the dragons roam, and sprites sing.

But those precious minutes I spend next to the weeping willow, are the moments I live for.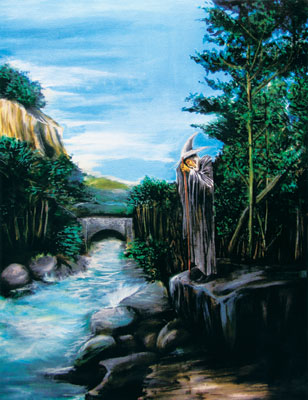 © Mick G., Bellevue, NE