Take My Hand
September 7, 2014
The earth reeks of moisture, brilliant red and rough like sand, speckled with rocks. The jungle looms on either side, lush with banana trees, leaves flapping in the breeze, and sweet sugar canes. Far above our heads is the sky, the most vibrant blue you have ever seen, sharp and saturated with color, stretching as far as the eye can see. This land is so beautiful, the pearl of Africa, and amongst such incredible views I can easily forget to look down—not at the dirt, but at the child who is holding my hand.
He's small, wearing dirty rags; green shirt far too big, the color almost gone, cargo shorts peppered with holes and torn in so many places. His feet are bare, coated in dust, and his body is so very thin. Looking up at me, he smiles, and his eyes twinkle with laughter and joy, even though his small face is gaunt with hunger. As I look down at him, the beauty of the world around me fades away.
This child is hungry—for food, love, and care—this child lives in deplorable poverty, an orphan living with extended family, amongst cousins who are themselves starving. He's eleven, and yet he is so small, malnourished, emaciated, and yet here he stands, clinging to my hand as he hides behind my long skirt. His free hand strokes the colorful fabric, enraptured.
The language spoken all around me is foreign, and I can only pick out a few words, but when I kneel down to speak to this child I don't need to speak in a foreign language. I smile, and so does he, no words are needed.
I came here as a missionary; teacher, intern, assistant to the agency with whom I volunteer. I've always wanted to come here, craving the excitement and the challenge.
I'm always chasing challenges—something new that requires my energy, thought, hard work—something to push me to my limits and make me better. I never was content to sit idly and enjoy life, I always want to push forward. But looking into the eyes of this little boy, everything I came here for fades into the distance, pushed into the far recesses of my mind. Now there is only this little boy who needs so much and I have nothing to give. He needs a sponsor so he can go to boarding school—eat, learn, and be cared for—but I cannot sponsor him. I can't help all of these children.
It's a feeling of helplessness, to kneel in this red dirt amongst such beauty and to see only poverty and starving children. It's a feeling of endless need. No matter how many people we help there are always more. There will always be starving children. There will always be poverty. But the real trouble is not the existence of these things, although they are lamentable. The real problem is that there are people in this world who are content for it to be so.
But those people can't see this little boy. He's not looking at them with big eyes staring out from a thin and hungry face. He's not holding their hand.
 
But what can I do about it? If I speak, only a few listen. And my hands can only help so many children.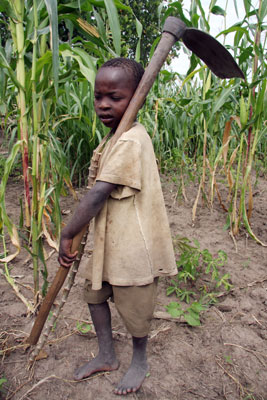 © Hyunwoo K., Charlottesville, VA