Lost Without You
September 26, 2014
At the age of ten years old I had lost my one and only mother. When she had died my heart felt they were being poked with a bunch of needles. I was sad and depressed for very long time. I couldn't eat or sleep. The thoughts of her not being there rushed through my mind. I thought it was my fault and that somehow I could bring her back. I never had the chance to do mother and daughter things with her because I was too young. My mother never had the chance to accomplish what she was planning for me because I was the youngest out of all her children.Therefore , I never actually had much time to spend with her.
I've always thought that I could spend time with her when I'm older. I thought we could just go out somewhere and just have fun with each other. I thought she would at least live until I was in middle ages. When she died it really had affected my whole life. I'm always wishing that I could rewind the clock so it could go back to how things were , but we all know we can't rewind time it just keeps going on. If  it were possible I would enjoy and spend every moment I can with her.I'll take advantage of every second we spend together. Snap back to reality I would never interact with her again.
I spent so much time focusing on the future I never payed close attention what was happening right there in front of me . Focusing on the future had made me miss out on the precious moments we could have spent together. Time Passed my life clean by . As days went on my heart ached even more. Every night I will cry myself a puddle of tears until I couldn't cry anymore. They had people who were trying to help but my heart was still broken inside . They took care of me like I was their own . It still didn't phase me because my mother will never be there when I needed her there the most. Through rough times and bad times she wouldn't be there to support me. I felt lonely and cold on the inside when these thought appears in my head.
We never actually had enough time to spend to together but the time we spent together was priceless. Every moment and every second that I had with her fills me up with joy . The time we had together we were mostly laughing , talking , and having  fun . We also had a few times where she just sat down and talked to me about life . I remember one specific time that we had the most fun together . I was just turning eight years old.  It was my birthday and she took me out to eat and to the movies . She had told me that " today was all about me and no one else " . She brought me cake and ice and said it was just for me . My sister came and ask for a piece but I told her that it was for me . She was very mad . Her face got red like a hot chili pepper and me and my mom just laughed . We laughed and giggle until we couldn't breathe .Throughout the day she gave me everything I wanted and more . When my birthday was almost over she came and kissed me on my forehead . She had told me " Finish school and make something of yourself . " I  kissed her back and said " I will ".
What she had told me still runs back and forth through my narrow head . Every day I live my life for what she had told me so I can make her proud and a happy mother . I still think it would be better if she were here to help me through it , but I guess i'll be okay . I feel her presence every now and then . When I feel her presence it feels like cold ice being dumped onto my body . My mind be gone . I always  have to motivate myself to keep me going instead of being sad and miserable all the time .
If only I can rewind the clock ! As I grow older I'm finally accepting the fact that she's gone and I couldn't do nothing for her . I have realized that she wouldn't want be to be sad for her . She would want me to live my life to the fullest . Everything I do I make sure that it would make her proud of me . I'm living my life the best way I can so she could be happy for me and that she could say that I did right by her.Everyday I wake up I know that she's proud of me because I face many difficult challenges. I moved on to better things but it's still not the same without her here with her . If only it were possible go back into the past. Everything I did before I wouldn't do anymore.I would make sure we spend as much time as possible together. I could keep on wishing but we all know she will never come back. The wonderful moments we had together will forever be with me. They give me pride and joy when I am at my worst times. They will always stick to me like glue stick to a paper!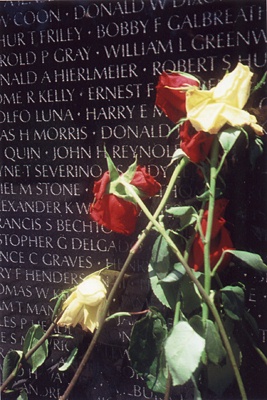 © Justin R., Angola, IN