My Brothers and Me
November 7, 2014
     Having two brothers has its merits, and its drawbacks. When I was younger, I usually thought only of the drawbacks, but lately I have realized how much my two brothers have truly changed my life. There are some things that are completely obvious: They're my brothers. I live with them. Living with other people changes your life. But there's always more to it than that. I didn't always make it a point to participate in games they were playing; I restricted myself by thinking myself into a narrow box- I could never play football, because I would get tackled. I would never play soccer because I would get kicked. I would never play baseball, because it's boring. That really never changed much. I used to always look up to my older brother as a brave person.  My younger brother was still yet to see. I never considered myself brave. But that's where competition comes in.
     I have loved competing for as long as I can remember. I hate the feeling of getting beaten, I love exulting in my victories. And so I started playing with my brothers. I still have some reserves about throwing myself wholeheartedly to the ground, but not many. My competitiveness kept me thinking If they can do this, I can do this. So I started doing things. And hard things became easier to do, and I became less of a follower as a peer in an adventure. Not the last person to jump, but the first. And along with this came the pleasant feeling of:  Hey. People might be following me now.
     Gone were the days when I only did something after continuous "Come on." Now I'm often doing the same thing to my younger brother. I guess that's a part of life- being the follower first, before eventually becoming the leader. I, for one, know that competing with my brothers has turned me into a much more reckless and adventurous person; a girl who loves to get sweaty and muddy, scratched up and scarred, and is overall open to doing almost anything. In short, a girl who is brave.
     I value competition hugely in my life. I compete with my brothers in sports and games. I compete with my classmates in everything. And I compete with myself, just to become the best person I possibly can.
     Competition often has a negative connotation. People are under the impression that competition brings out more of the bully aspects in an individual. And while this may be true for some people, I find that competition gives me more of a way to put myself out there. It's more of a tool to becoming successful than an excuse.
     The original spark of competition has altered my life in so many ways. I used to think that competition was for the brave; the ones willing to put themselves at risk. But now I've realized that I wasn't brave when I started competing. Competition has made me brave.
     And now, because I was always taught that one should end an essay or speech with a Call to Action, I am now going to call you all to some sort of action. And here is is:
     Some of you might already consider yourselves brave. But there are many different ways of being it, and I'm sure you are not all of them. So find something inside yourself to bring out the brave in you. Find your way of becoming a leader for at least one day of your life. Find your way to be brave.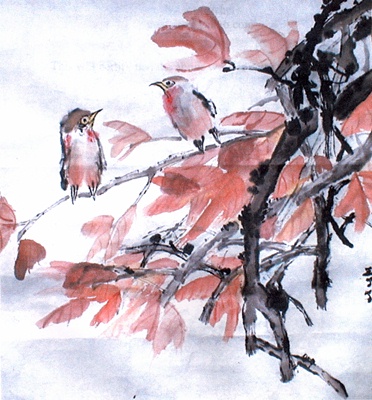 © Tina W., Fresh Meadows, NY