The Monster
November 12, 2014
They say that if your dreams don't scare you, they aren't big enough.
But what if we are so afraid of our dreams - or rather, failing to achieve them - that we are tempted to lock ourselves in our rooms, climb into bed, and hide under the covers, almost as if we fear the presence of a monster under our beds? I know for certain there is a creature lying in the dark corners beneath my bed frame. He comes out of his nook every night just as I am trying to sleep, and he yells in my ears and makes my head pound with the tumultuous ringing of his voice, "you'll never get there! You'll never get there!"
As afraid as I am of the harshness in his tone, I keep locking myself in my room, taking in his words, because to leave would mean to risk failure.
But the monster is just that: a monster, I suppose. He will be my downfall, and I owe it to my hopes and dreams to stand up for myself, and take an ADVIL before closing my eyes one night to numb the pain, so as to yell and scream at him, "you don't scare me anymore," even if I must lie. Even if I stutter. I must tell him - he feeds off my fear. He only gets bigger and stronger with every nightmare I have, every sleepless night, every threat I let get to me. I must keep him in his corner.
I have to put this monster down.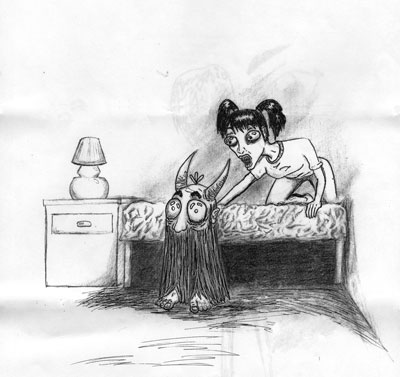 © Jasef I., Norfolk, VA