Routine
November 12, 2014
Every morning, I start my day with the same routine: I get up and go to the bathroom, brush my teeth, and then come pick out an outfit for the day. Picking up my contacts, I head back to my mirror, earbuds in ad blasting loud, and put the contacts in place, right eyes first and followed by the left. I pluck my eyebrows to perfection, and then put on my eyeliner and mascara, and go to my room to pack my bag for the day. Afterward, I head to the kitchen to eat breakfast, put on my shoes, and head out the door, earbuds still in.
This is the way it's always been, and I'm afraid that this is all there'll ever be. Just once, I want to head to my locker in the morning, reaching for a notebook, and catch someone glancing at me. Just once, I want a guy I've never talked to before to approach me, as me my name, show some interest. Maybe he could walk me to class, if that's not asking for too much. It doesn't matter what 'type' of guy he is. I could care less if he was a tall jock with blue eyes and tan skin, built and strong, or a quiet, poetic type with deep brown eyes and a crooked smile you only got to see if you got close enough, or caught him reading his favourite book. Maybe he's a gamer, who wears sweatpants to school every day, and mountain bikes in his spare time, or he could even be a suit-loving, family guy who rather spend some quiet time at home rather than go out and get drunk on a weekend night. It doesn't even matter.
It doesn't matter at all. I just want someone to break my cycle - to interrupt this non-stop repetition. I'm tired of hearing the same songs every day - I'm tired of laughing at the same jokes, sitting at the same spot for lunch every afternoon, waking up to the same routine, that same face staring back at me asI put my contacts in in the morning. I just want someone to come into my life and change it - is that too much to ask?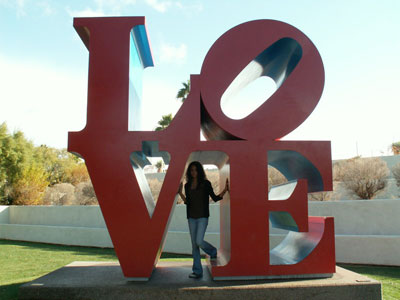 © Shannon E., Glendale, AZ