How to Overcome Your Fears
January 2, 2015
Do you have a fear that prevents you from doing what you truly love, or a fear that makes you feel isolated from the world? Well, you not alone. There are many people who have fears that can be very challenging to overcome, but don't give up because you can overcome it, though you don't have to overcome the fear all at once, just a little bit at a time.
If you're fear is public speaking, you don't have to talk to the entire world, just a small group of people. By doing this, it makes you feel more confident in yourself. One tip that you could do is write down on a piece of paper what your biggest fear is, something that you want to overcome the most, and make a list of three small steps you think you can DEFINITLY do to overcome that fear. Choose one and do it the very next day.
If an opportunity comes up to face your fear, don't disregard it, go for it. It may be difficult, but tell yourself that you're not going to say no. You may be scared of something that most likely may never happen, or something that will defiantly happen, when you have a fear like this, the best advice I can give you is to talk to someone you trust about it. They can comfort you in ways this article just can't.
If your fear is failure, failure of not being the best, it's not the end of the world. Everyone, I mean everyone, will make mistakes and just because you make a mistake, doesn't mean you're a failure.
Most people are very shy which might prevent you from doing what you love. I can speak from experience, if you are very shy, go up to someone and just introduce yourself. You might find out that they may become your best friend because he or she may have the same interests as you. The next step to overcoming this fear, is feeling confident in yourself and say, what's the worst that could happen?
You may have multiple fears that prevent you from doing what you love, find someone who may have those same fears and overcome your fears with them. Everything is better when you do something with someone else.
Always know that nothing is impossible. All it takes to overcome your fears really is just having the courage to do so. If you make your mind up that you will overcome your fear, even if it's not all at once, you can do it!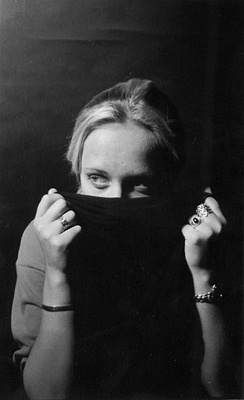 © Hadley B., Marblehead, MA