To a Friend I Haven't Seen in a While
January 3, 2015
To a friend I haven't seen in a while, here's what there is left to say. When the distance between us was as small as the distance between our desks, and every recess was spent fantasizing of ghosts and monsters that followed us down slides and across the monkey bars, I could draw a picture, a sloppy, childish picture, of your dirty ginger hair and your freckles and braces and be sure of every crayon stroke. Now I scroll through an online feed trying to determine the identity of the beautiful strawberry blonde with long eyelashes and an even smile. Do you remember how we would play monopoly with Littlest Pet Shop characters? Or pick tomatoes in your garden? Because I do. Do you remember a bad memory between us? Because I don't. And I have watched you from these many miles away, hoping that one day I'll see you again. Hoping that you remember my first name, as I have clung to the first middle and last names of you. Because I took an Oath with a pair sparkly pillows you gave me in the shape of a broken heart, and my side said Best, and your side said Friends.
From many miles away,
   -A friend from yesterday.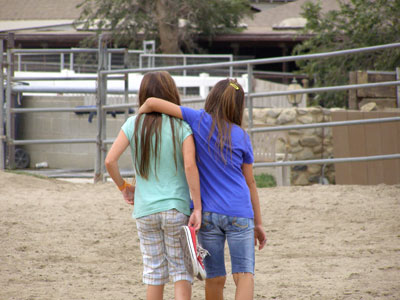 © Austin K., Studio City, CA