Sharing is Caring
February 9, 2015
Those two minutes may have just been the most petrifying moments of my life.
My dad and I have always been close. When I was 2 years old, he enrolled me in swimming classes, holding me as I splashed in the water with my chubby toddler hands. I loved the water, and I loved Saturday morning swimming lessons with him. My mom used to get jealous because I would always want him to get in the water with me. I couldn't really tell you why, I barely remember - but everyone tells me I've always been daddy's little girl.
We also watched a lot of cartoons together, many tv shows I can spend hours listing. The first was a cartoon batman show. We would sit in front of that old, box tv when I was five and he would bring us each a bowl of yogurt with raisins and sliced cucumbers to enjoy during the show, sitting on the couch together. I remember sitting on that same couch in our old apartment one night, staring out at the fireworks at 11:00pm, waiting for him to get home from his business trip even though I should've been fast asleep by then.
As I grew, Dad and I grew even closer. Usually, people think that as a girl grows up, her connection with her dad grows weaker, even if her love for him doesn't, but that's not true in my case. My dad and I talk about so many different things, deep things, little things, jokes, politics, life, family - you name it. We're friends. We approach things the same way. We like our research, and we don't argue: we thrive on open communication. It's an asset I'm glad I inherited.
He has always been there for me: he's been the humor when I needed to giggle, the teacher when I needed a lesson, the listening ear when I needed a friend, and most of all, he has always been the best father I could ask for.
That's why it was hard to tell him his little girl is growing up. God, I was petrified to tell him you asked me out. I was shaking, my heart was pounding, my mind traveling in all sorts of different directions. I almost chickened out. It's not easy to tell the man who raised you that he's got to learn to SHARE his little girl with someone else.
It went over pretty well. In all honesty I was prepared for much worse thanks to my mom, but she helped. I know he's trying to be as casual as he can but that he's probably freaking out even more than I was when I told him, and I understand. He's protective. He loves me. He wants to make sure I'm safe and he likes knowing who I'm with. It's understandable. To him, I'll always be the little girl he took to swimming classes and watched cartoons with - and he's right, I will be. We're all just going to have to learn to SHARE.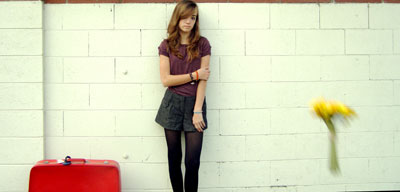 © Austin K., Studio City, CA