Six Months
MAG
My arms ache from the strain I'veforced on them. They are trying to tell me that pushing a car up an icyhill is not something they can do. Ms. Blonde is pushing just as hard.The desperation on her face is a reflection of mine. Ms. Brunette is inthe driver's seat revving the engine

I can't give up.I won't give up. This isn't happening. I'm going toget caught.

I slam into the car, pushing with every last bit ofstrength I have and then some. My feet slip and I fall on myside.

I catch a ray of blue light in the corner of my eye. Thecolor changes to red.

No. No! No, don't look up! Pleasedon't be what I think you are.

I glance upward, waiting tocatch sight of my executioner.


* * *
"How could you dothis to us?" Rhetorical question, don'tanswer.
"Did you think you were going to get away withit?" Not rhetorical, but there is a difference between the truthand what your parents want to hear. Keep your mouthshut.
"Who bought the alcohol? Wait, never mind, Idon't think I want to know." This is the point where youdefend yourself. Think of something good.
But it's hard tothink of a good answer after my dad picked me up from the ditch whereMs. Brunette's car had slid and drove me home in silence. Itwasn't any better when I walked in the door. She was there waitingwith that horrible look of disappointment that mothers perfect.
"I didn't have much, Mom! I swear!" Stupidanswer. Stupid! "I'm sorry."
A fugitive tearrolls down my cheek. I watch it splatter on the floor. When I look up,my mom's face is stone. Her arms are rigidly crossed in front ofher. She searches my eyes for the perfect answer as to why her perfectdaughter drank rum.
Her perfect daughter, who got perfect gradesand made perfect pieces of art and did her chores perfectly and dideverything perfect ... perfect ... perfect.
But I didn'thave the perfect answer to give her.
She turned and walked to herroom. I heard the doorknob click before I headed in the oppositedirection to my room.
That is the night I was no longer a littlegirl in my dad's eyes. That is the night my relationship with mymom changed forever. That is the night that dictated my plans for thenext six months.
That is the night I cried myself to sleep.
* * *
I hear the children's laughter fade as the doorslowly closes to the Children's Museum. I look up into thesunshine and whisper, "I'm done."
I pull out mycell phone to call anyone and everyone with the good news. I see peoplestaring, but I don't care.
I'm done!
Done withthe three-page paper on the effects of alcohol on the body. Done payingthe $100 juvenile diversion fee. Done with the eight AA meetings. Donewith the two-page reflection paper that made me cry. Done with the 25hours of community service at the building I am walking away from.
But my mom still doesn't trust me. My dad will never seeme like he used to.
It's been six months, three nights ofdrinking, two broken relationships, and one changed girl since thatnight. But it's okay ...
I've got my life back.I'm done crying.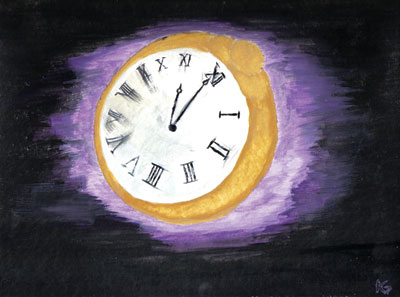 © Anonymous