Fortune Cookies
March 4, 2015
I believe in fortune cookies; the sealed plastic which holds captive a biscuit styled cookie that has a small, printed message about the future with any random word in Chinese on the other side. Now I can picture it, the brief message contained inside a tan, crunchy baked good that somehow looks like an envelope.

Instantly when I think about fortune cookies, my mind reminds me of any time spent with my family eating them inside a small, concrete Chinese restaurant. Each time there is a special occasion, my parents take me out to the local Chinese place with a large basket of fortune cookies: the cookie of celebration.

Even without an exciting event, I salivate when I hear the good news that we are going out to eat Chinese food. We enter the warm Chinese restaurant and consume every last bit of our meal. Finally, all of us chomp on our sweet cookies and read our fortunes. My mother, father, and I laugh at the funny ones and wonder a
bout the relatable ones. Separated, each of the individual elements inside fortune cookies are not special, but combined are an incredible cookie.

When there are not reasons to celebrate, both my day and my parents are average and predictable. Once in a while something worth celebrating happens, and who we truly are comes out. At the end of the day we are a sweet, gentle, and kind family. Each of us enjoy being together during meals at the Chinese restaurant, especially when there is an important moment. Once the meal is finished and it is time for dessert, the fortune cookies which make each one of us smile. Reading the message creates a subject to converse about and concludes the meal.

I also believe in adding the final touch. When at the Chinese restaurant, the fortune cookie is not needed, but something sweet which wraps everything together. Every weekday, my father goes to work and once a month he goes on a business trip. During the day, my mother runs errands and gets everything which is needed done. Without me, they would work together fine. Similar to at the restaurant, when the meal would be fine without the fortune cookie. But I am here, and I act as their fortune cookie. I am the final touch to our family, and I could not be happier to be it.

Fortune cookies mean final touches and adding the final touch means exceeding the expectation. Everyone in my family does their part, and I am there to help and keep them happy and together Similar to being at the restaurant, without having a fortune cookie to finish off the meal, the entire experience is average. It is the final touch that is needed to not only hold everything together but to make it perfect. I believe everything is better when a finishing touch is added, even if it can survive alone.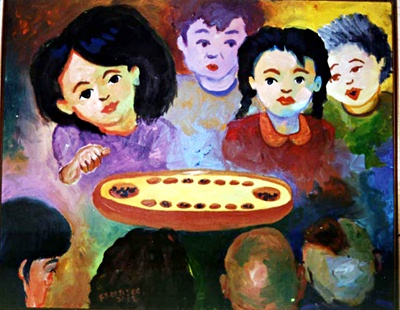 © Fransisca A., Surabaya, Indonesia