I Believe in Calendars
May 3, 2015
Growing up, I've always seen calendars around the house. There was one in every bathroom, bedroom, and hall. There was a calendar in the kitchen, the dining room, the living room, even the garage! A visitor may well have thought that we were a people who needed constant reminder of the date and the day of the week. In a sense, we were.
Every morning, my mom and my dad would plan out their schedule for the day. So at an early age, I too developed a dependence on planners. I kept a small planner with me everywhere I went. I was really particular about choosing the right planner too. It couldn't be too big. It had to contain tabs for each month. It had to have a calendar for each month and a note-space for each day. It couldn't be a spiral planner. It also, above all else, had to start in the summer and end in the summer. Picky? Maybe. But if I were to use the planner for the entire year, it had to be convenient and apt for my every need.
Dwight D. Eisenhower once said, "Plans are useless, but planning is indispensable." While he said this in context of preparing for a battle, his quote holds true for everyday planning as well. Often, unfortunately, I find it hard to follow my plans. It seems that I may have overestimated my ability for efficiency and time-management. I've overestimated my resilience against time-consuming temptations. Even as I am writing this at 9:32 PM on a Monday night, I should be studying for my chemistry test which I had planned for 4:30 PM. Plans are useless - especially when we forget to plan for the unexpected. But planning, on the other hand, is indispensable. Planning gives us a sense of direction, a sense of motivation, an itinerary for success. And albeit our journeys may stray far from our plans, plans give us a roadmap back to the road to our goals.
There is, however, a certain danger that lies in the act of planning. When life doesn't go the way we planned, for example, we feel disappointment, chaos, and utter frustration. We feel a need to cling tight to our precious planner and squeeze our eyes shut in hopes of finding our ways back home. But in reality, when we open our eyes, we see that fate has yet again destroyed our painstaking planning. This is one of the hardest lessons I've had to learn.
I'm a perfectionist. I like to be in control. And on the off chance, God forbid, things don't go my way, I have a tendency to fall into the deep dark pits of frustration and stress. Sometimes, I even forget to enjoy the little things in life. In the words of an anonymous poet, "I was dying to finish high school…I was dying to finish college…I was dying to marry…I was dying for my children to grow old enough for school…I was dying to retire…And now, I am dying…and I suddenly realize I forgot to live." With the incessant planning and repairing of fate-damaged plans,  I forget to enjoy every day as a gift. I start living for tomorrow instead of cherishing today. I start wishing my life away instead of enjoying the magic of the moment. Planning may be indispensable, but next time we make our plans, perhaps we should look up at that calendar on the wall and remind ourselves that even so we should learn to celebrate every day of life like it's a special holiday - a gift and an opportunity to try new things and learn something new about the world around us. Maybe then, we'd find a life that can't be bound by the dehumanizing columns and rows of squares which we choose to confine ourselves and our sense of time.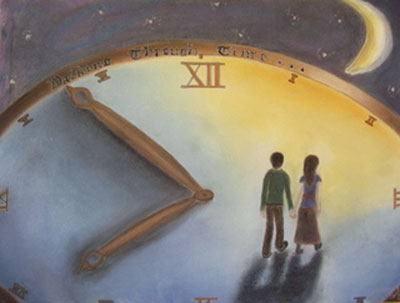 © Carollynn G., Hawthorne, NY