Instinct
MAG
May 20, 2015
It is instinctive, the way I slip my fingers in the back pocket of my blue jeans. It takes no conscious effort to tap out my four-digit passcode. The screen is unlocked before I even register what is in my hand. My face reflects the artificial glow from the screen.
Tap into Safari. Double tap home. Swipe up. Tap into Snapchat. Double tap home. Swipe up.
What was I doing again? I can't remember. My mind is blank.
I slip my phone back into its denim harbor. Exactly 22 seconds later, it buzzes. Instinctively, I reach for it, unlock it, and tap into messages in one fluid sequence.
Nothing. A phantom vibration. All in my head.
The screen is alluring. Double tap home. Swipe up. Tap into photos. I look at the lunch my date bought me yesterday, a dozen memes, and nine selfies. Only after that do I realize that I never took a picture with the boy who bought me lunch.
My regret vanishes as quickly as it appeared when I doubled tap home. Swipe up. Tap into Instagram. I scroll through hours worth of badly filtered photographs cropped into the standard square. I ignore low battery warnings without processing the meaning. I am enthralled, zoned into another's inaccurate portrayal of life.
The screen goes black. My phone is dead, and I'm forced into reality. My eyes strain to adjust. My mind feels numb. I have no idea what time it is because my screen won't light up. Now what? Instinctively, I panic to find the nearest outlet.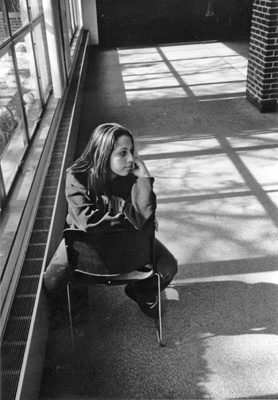 © Leighann E., Westport, MA