New Beginnings
August 30, 2016
The street was bustling with people. It was almost like when one is playing the game sardines and everyone has to hide in a small place together. The strong heat from summer was starting to fade off into a colder September, but it did not feel as cold when I was pushed next to strangers. My family and I shoved our way through the headstrong New Yorkers to get into my aunt's apartment building. My Aunt Lisa and Uncle Petey had been living in the same building for years, and I would recognize its coffee colored balconies anywhere.

As I walked into the building, butterflies flew in my stomach. I was so impatient to meet my new baby cousin, Isabella. Up until now, I had only seen her in pictures, and it was going to be the first time I would meet her in person, and my first opportunity to hold a newborn baby. I could tell that the roles in my family were changing, and Isabella had become the youngest in my family. This meant that I, too, was growing up.

After taking a long elevator ride, we entered the empty hallway of floor 16. As I waited outside the door, I became even more nervous. My mom seemed ecstatic, as if she couldn't wait to see the baby girl. My dad looked overjoyed as well.

For the longest time, I had been the youngest in my family. My Aunt Lisa had been trying to have a child for a long time, and now she finally had a precious baby girl. I was so happy for my aunt. I had always loved kids, but I had never been around a child who was less than one year old. I wondered what it would be like to have this newborn baby in our family, someone who is new and exciting. She was now the baby, and she would look up to me.
As my mind raced, my father knocked lightly on the door, so lightly that I could barely hear it. We were quiet so that my Aunt Lisa's dog would not bark and wake up the sleeping baby. I was not even sure why I was biting my nails and twirling my hair.

My grandma opened the door swiftly, and she whispered in her strong Italian accent, "Come on in. Isabella is sleeping, so please be quiet."

"Okay, good to see you!" my dad replied softly.

"Hi! It's good that Isabella is getting some rest," my mom responded.

"Hey, it's really nice to see you again," I said kindly.

We followed my grandma into the apartment and saw Isabella fast asleep as my Aunt Lisa was holding her. My Uncle Petey was cleaning something up in the kitchen, and gave us a friendly wave. We waved back and continued to walk over to my Aunt Lisa. My heart was beating out of my chest, and I could feel the butterflies in my stomach again. All of us said quick hellos, and then I knew she was going to ask one of us to hold Isabella.

"Denise, do you want to hold her?" my Aunt whispered to my mom.

"Of course!" my mom said happily as she left to wash her hands before holding Isabella.

We all watched and took pictures of the two of them. I wondered what it would be like to hold her, and my mom made it seem so simple. But then again, I am known for being clumsy and making mistakes, so I prayed and hoped this time would be different.

"Jacqueline, do you want to hold Isabella next?" she whispered.

I knew that there was no way to escape. This was not the type of thing one could turn down either. I knew I was going to have to hold Isabella, and there was no way of getting out of it this time.

Gradually, I glanced at my Aunt Lisa, who smiled at me and nodded her head. Her smile reassured me, and in the back of my mind, I knew everything would be all right.

"Umm.. Uh… Sure?!" I whispered back.

I looked back at my Aunt and tried to give a heartwarming smile, but it was getting harder and harder for me to pretend not to be nervous.

"Okay Jacqueline," my aunt said happily, "just go wash your hands and use some Purell before you hold her."

"Okay," I said, unsure of how to respond.

I gave her a small nod as I walked into the powder room. I began to wash my hands, and I looked in the mirror above the sink.

"Ready Jackie? I know you can do this," I said to my reflection and took a deep breath.

As I looked at my reflection, I was sure everything would be okay. Quickly, I finished washing my hands and walked back into the living room, with a new attitude and smile on my face.

The walk back from the bathroom probably took about five seconds. I was confident in myself. Each step turned into a mile as my excitement grew and grew. Finally, I was back in the living room of the apartment, ready to hold baby Isabella.

"Okay, Jacqueline," my mom said as she started to sit up and hand me Isabella.

The butterflies in my stomach felt like they would never go away, and I was so hesitant to hold her. Every moment from when my Dad knocked on the door had been leading up to now. As I looked into little Isabella's eyes and saw my Aunt's smile, I knew nothing too terrible was going to happen.

I leaned over as my mom placed baby Isabella in my hands.

The feeling of holding Isabella was magical. She was so innocent, peaceful, precious, and pure. I looked back at my Aunt Lisa, and I could feel the biggest smile come across my face. She grinned back at me, and I started to rock Isabella a bit in my arms. I thought to myself about how tiny she was. It was insane to think about how something so small and new would grow up to be a person with her own experiences.

As I thought about her future, I admired her in my arms. Isabella's eyes were closed and sleeping, and her hair was brushed perfectly into a swoosh shape. In the background, I could hear the tapping noise of my dad's camera taking photos of Isabella and me. I could not believe that I was ever nervous; this was the most miraculous experience of my life. Isabella was such a small person, and I knew she was going to grow up to be a mature and sweet girl. As I held her, I found that I was becoming happier and happier by the second.

I held Isabella for a few more minutes, and everything in the apartment was silent. Isabella's little smile had faded, and her ecstatic eyes were closed. A bit later, I passed her to my Aunt Lisa, who also began to fall asleep. When my parents and I were sure both of them were sleeping, we chose to go home, leaving them both to rest peacefully.

My Uncle Petey walked us out of the apartment and back into the pale hallway. My mom pressed the down button for the elevator, and we filed got inside. It was much later now, and I could feel the elevator move downwards slowly. Once we left the lobby, we walked down the wide New York City blocks to our car. After holding baby Isabella, I could not help but think about how the roles in my family had changed. While I was once the baby in my family, I was now becoming one of the adults. I heard the beep of our car keys as my dad unlocked the car, and I jumped inside to get away from the pitch-black night. While tonight may be over, tomorrow is full of new life and new beginnings.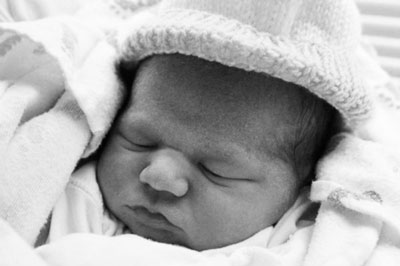 © Kaelee L., Petersburg, MI