I Should Trust Myself, Shouldn't I?
May 4, 2017
"I should trust myself, shouldn't I?", the question rings in my head every day, branded and scarred into the back of my mind. A phantom disguised as simple hesitation, self-doubt, some would call it. My major issues with self-doubt started little after eight years of age, just when my mother got involved in my life again. It first started with the still obscure subject of why was I given to my grandmother at the age of four, some say it was because of my mother having financial troubles. However, my mother always claimed that my grandmother forced her. Whether either of those claims are true, will forever remain a mystery; just one of the insignificant fogs, amongst burning gas and thick smog. Although, while the burning gas would be a source of hope and guiding light for some, mine glows eerily. The gas spills from lanterns, the flames burns are dull pains, the scars are not. As a result, my mental skin burns off and creates a thick, consuming smog. My lungs have learned to suffocate on that very smog, for I will eventually collapse when I need to breathe, to think, to be. But, I've collapsed and collapsed until one day, there was no gasping for air, the winds of will had blown some of the smog from me. However, it had been too late, the smog had taken my breath and left its tar in my lungs. I was now part of the smog, and it; part of me. I had learned to trust not me, but a mask of the smog. Finally, it had consumed me, and I consumed it.
Four years later, the side of me of which had been consumed begun to ring questions. And I found my way back, and shone through the smog. And some things became clear, the lanterns were placed here by accident, or by naïve and oblivious intention. They had all of the doubtful thoughts I had been filled with throughout the years inscribed on them. Although, some of the inscriptions were barely legible now. The scars still stand, and some of the gas still burns from the winds of my unfamiliar family. Most of my mother's inscriptions are still fresh, even hot to the touch, as if they were carved into the lanterns with a forge. My map still suffers, but mask has melted and the tar has cleared. The first flower bloomed again, I almost completely forgot about the first one. By fourteen, I was couple flowers short of making a crown, the last few pieces of a floral puzzle. By fifteen, I had the crown precariously lying upon my head. By that summer, they had wilted and fallen off. Now, there's a meadow plagued by an ash of sorrow, and while my crown may be plentiful now, it's wilted and lost its vibrancy many of times. Meanwhile, some of the world around the meadow has been obscured by smog for years prior to the blooming of the meadow. Other areas, cease to be, or rather need recreation. And these scars, scars of doubt, pain, distrust, are in need of healing. I've run my fingers over these scars time and time again, and I think of how these are familiar to me, but yet so foreign to my heart. The things that gave me these scars weren't intentional, they may have been predisposed. Either way, I must heal my own lands, and heal my own scars. Create the mountains of my own truth, my own seas of strength and wonder, fill the air with new winds of will, and find the sun of my land. And heal these scars and learn to trust myself, for had I not, my friends could not fill my fields, had they been consumed so many years ago by the burning gas and smog. My friends now lie within the fields, providing the supporting air to the wind of which my "family" blew the smog of which suffocated me. May they be my family, not just my friends. They keep my fields grounded when I'm struggling to, and for that I'm am thankful.
Thank you, everyone.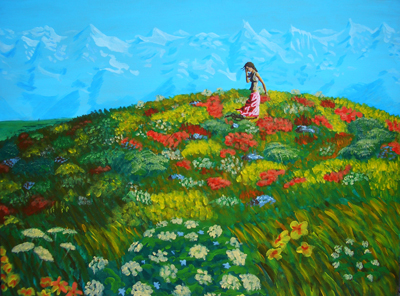 © Allison F., Langhorne, PA