My Country Night Sky
May 15, 2017
It's very dark here. No city light, maybe the occasional car or two, street lights, or house lights. The houses are spaced out and there's a lot of space here. This is my favorite time of day. No sun, it's dark, and sweet.
The dark water is playing tricks. The water is reflecting the full bright moon and the shadows of long plants and trees. The hill side I'm sitting on is a little rough from my pigs routing it up, but its fine. I can't see my garden but I can feel it near. It smells so amazing. The soft, light breeze feels cool and sweet. The sent of growing tomato plants is so clear to me. I can smell very faintly the leftovers of spring and I'm starting to smell the sweet, crisp, sent of fall.

I close my eyes and I can hear the water rushing, the tree frogs sing, and the pigs cackling at each other. I feel the soft, damp, earth below me and the mist slowly settling onto my skin. I look up and see thousands of bright shining stars and I long to be up there with them. The darker clouds cover the moon for only a few second and then it's back shining better then before. I can see everything around me and it's amazing. It all has this bright white tint to it.

The woods are a crossed from me. They have a dark mysterious look to them, like it's trying to lure you into its dark and dangerous grasp. I can feel the smooth and jagged grass around me. I can taste the cool, wet, moisture in the air. The aroma from the garden is mouth watering. I can taste the juices tomatoes, sweet and hot peppers, and the sweet, sweet corn as if I'm really eating them.

I can smell and taste the cool earth around me. As I lay there and listen to the leaves flowing in the breeze and I hear the meadow swaying in the wind. I see lightning bugs in every direction. It's so beautiful the way the night is sparkling away without a worry in the world.

Under that sky and in that calm, cool, sweet, environment I feel like I'm spirited away from this world. There's no yelling, drama, stress, pressure, no worries at all. I'm calm, content, in this beautiful realm I wish I didn't have to leave. I have never felt like I belonged anywhere until now. This is my home, the place I belong; it won't reject me or be disappointed in me. But it will change and so will I, but I hope we will always be one in the same forever more.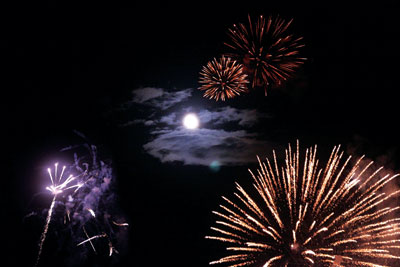 © Meena K., Groton, MA