This Is 16: Life, Sour & Sweet
June 11, 2017
This is 16.

Sixteen is like the favorite candy you enjoyed on warm middle school days – saccharine, pleasant, but with the bitter awareness that it all lasts fleetingly. It is being freed from the mid-youth crisis of freshman year, the silly gossips of sixth grade, and the restrictions of elementary. It is teetering on the cliff's edge between reliance and independence, of childhood and adulthood, wheeling your arms around wildly, unsure whether to jump forward or not.

Sixteen is sophomore year coming to an end, being an individual in a society of thousands bestowed with the coolest-sounding high school moniker. It is making fun of the freshmen but shying away from the seniors.

Sixteen is when every adult asks whether you can drive yet. Sixteen is replying "no," moodily and begrudgingly. Sixteen is your little sister begging you to get your license so you can be her personal chauffeur. Sixteen is wanting to learn how to drive, but losing too many hours of the day to do so.

It is running your fingers over the stretch marks, trying to eat less, picking fervently at acne scars. It is hating your own body on the bad days.

It is wearing no makeup. You love your face enough without it to adore yourself in any remotely reflective surface. Sixteen is wearing your favorite dresses, armed with the knowledge that you make boys stare, but the truth is, you're only glancing at the pretty girls.

It is being completely useless at flirting. Or partying. Or whatever else was expected of you in every high school chick flick ever.

It is pulling all-nighters, falling asleep with your contacts in, forgetting to brush your teeth. It's getting the A with indigo moons eclipsing beneath both eyes. It is how to AP, National Honor Society, Varsity, how to take quick naps on the car rides home, how to have a panic attack in the hallway outside a classroom and still come in to take the test 5 minutes later. Sixteen is being so tired you wish you were dead because, well, death is just sleep's slightly more competent brother.

It is ignoring your pediatrician when she tells you to get more rest. You have other important things to worry about, and you figure you won't have to pay the price until you are much older.

At 16, you dream of success. You made a list of universities you hoped to get into, but the list changes every semester due to steadily decreasing expectations.

Sixteen is the age you wanted to be eight years ago. But now that you're here, what are you going to do?

It is wishing you could write songs without having to rhyme everything. Or poetry in a way that doesn't make you sound like a college emo.

It is the New Year's Resolution to finish the novel you've put off for four years. It is writing the first chapter and learning how to not hate every word on the screen.

Sixteen is a birthday party poignant with burdensome regularity. When did birthdays lose their excitement? When did you stop being a kid? It is being disappointed in your parents. It is realizing they are not always right.

It is being two years away from graduating. It is imagining living without your parents, without your mother's presence, without the hugs you give your dad before leaving for school in the morning. You think you are either scared of growing up, or change. Maybe both.

At 16, all the politics, songs, memes, jokes, media, trends, and memorabilia of teenhood imprint themselves onto your brain with startling accuracy. It is forgetting the steps of the Calvin cycle during a Bio exam but knowing all the words to Nicki Minaj's rap in Monster by heart.

Sixteen is resenting anyone who tells you that you are naive and that your thoughts are irrelevant, that you don't know the value of a hard day's work, who criticize your posture, your actions, your obsessions. It is linking arms with millions of other teenagers around the globe and hissing back, welding our phones and questions like daggers, shouting our beliefs from atop desk tables like battle cries. We take risks, change the world, are hated for it, but do it anyway. This is the reason people are scared of us.

At 16, you sneeze daintily, but laugh without restraint. You hug the friends you don't see often all the more tighter, and now understand the feeling of wanting to talk with someone for hours. It's staying up till 2 am to listen to same song over and over again. It's reading books with an insatiable hunger. It's your affinity for sweets, distaste of coffee, and inability to resist bickering with your sister.

At 16, there is no true resolution. Life is not a perfect story, but rather, a collection of memories replaying within your head, suspended in infinite limbo. You fear being lost on this world, with no one and nothing you've done that made an impact. You know you will either eventually accept this, or finally do something about it.

This is 16. This is me, jumping forward.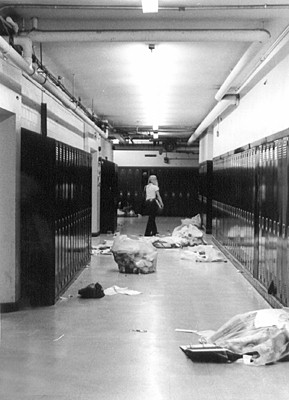 © Halsey S., Marblehead, MA