The Sport - the Life - of Rodeo
MAG
Tosome people, it's just fun. But to those like me, it's a lifestyle. What is it,you ask? It's the sport of rodeo.

People think rodeo is just fun andgames with no work involved. You think it's just a person out in the arena ridinga horse or a bull, right? Some say you're not an athlete, that you can't make aliving doing it the rest of your life. Well, for those who say rodeo is not asport, let's examine the facts.

For me, it all started when I took myfirst steps. These steps were straight out to the barn. The first word out of mymouth was "horse." I grew up around horses and the sport of rodeo, andit's what I do. I learn something new every day about the horses and myself. WhenI was five years old, I started to enter rodeos and from then on, I was nonstop.

I would hurry home from school to go riding and practice my events. Isoon learned about roping and goat tying. My practice wouldn't end when the sunwent down, I would still be working. When Mom and Dad got sick of me roping themand the dogs, they would take away my rope for the night.

Finally the daycame when I was a freshman and could join the National High School RodeoAssociation. I wasn't in any age divisions anymore, it was winner-take-all. Mymom told me, "You're playing with the big boys now." I was up againstseniors who were trying to get rodeo scholarships as well as freshmen likemyself. It was two swings out of the roping box and you better catch the calf. Itwas seven-second goat-tying runs and sometimes I didn't even place. As for thepoles and barrels, I had to make a perfect run. I couldn't hit any poles and Icouldn't have a really wide third barrel.

I couldn't go all week and sitaround waiting for my seven-second goat runs to come to me, I had to work. Thoseperfect barrel and pole runs didn't come overnight. It was all the time spent inthe arena walking that perfect pattern that made me successful. In the breakawayroping event, it took hours of roping that bale of hay or the calves in the arenato become consistent.

It takes hard work and dedication to achieve what Ihave accomplished over the years. It takes long hours of riding to keep my horsesin shape. Just like in basketball, there is a team. My team consists of myhorses, my parents and everyone who helps me keep my horses working, including myvet and my farrier, who shoes the horses.

In just the two years of myhigh school rodeo career I have ended up an alternate for the High SchoolNational Finals both years. My junior year is almost over and the odds of goingto Nationals are looking good. Last year I attended the Silver StateInternational Rodeo Finals and had a good time as well as placing among the topfive competitors. I can only imagine what Nationals will be like. It will be thehighlight of my high-school rodeo career.

My goal is to go to college andget a degree in equine management, or related field. Attending college on a rodeoscholarship, I hope to qualify for the College National Finals Rodeo. When Iaccomplish that goal, I want to train a horse in hopes of qualifying for theWrangler National Finals Rodeo.

So for those of you who don't think thatrodeo is a sport or a way of life, think again.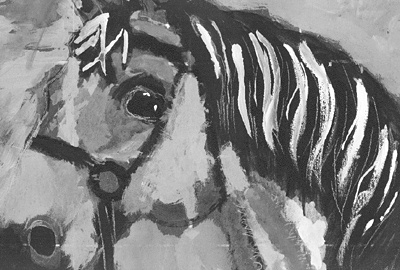 © Anonymous