The Last Hole
MAG
Thematch was so close that my hands were trembling. My partner and I had the samereaction to stress, and tried to comfort each other with positive reinforcement.

"Don't worry about a thing," I told Paul. "Just play yourgame. There's one hole left, and we've been beating our guys all along. Now knockthis one right down the middle, and we'll take it from there."

Paulwas a junior and I was a sophomore, but he never had a problem with me giving himadvice. If anyone else opened their mouths to him, though, he'd tell them wherehe'd like to stick one of his clubs.

Golfers are naturally a littletouchy because it's such a hard game to master - virtually no one has - andtaking advice can imply that the advisors are "masters." Golfers prefertheir swing or club selection over anyone else's. So, if you ever see golfers whoteach and learn from each other, you know they have overcome these littleegocentricities. This was the case with Paul and me.

As a new member ofour legendary high school golf team, I was going to learn how to play the sportfor a team win instead of as an individual. Only in scholastic golf and the RyderCup do teams compete. In high-school golf, the starting line-up consists of sixplayers from each team who form two-man groups to play nine holes. Each team ofsix adds up their best five scores; the lower total wins.

Paul was a freespirit and not even our coach, whom we called the Mickster, could tell him whatto do. He was one of the most consistent on the team and Mickster knew Paul wasalways good for 38 or 39, seldom better, seldom worse. When I was paired withPaul, I was a little intimidated. He looked much older and had facial hair. Heseemed to know everything about high-school golf, and I wanted to learn, butwithout asking him directly. Paul was taller, meaner looking and had a deepervoice than I, but I was happy he was on my team.

We worked well together,and this time was no exception. We were playing against a team close to our skilllevel, but one that we couldn't lose to on our turf. Our opponents: Jim andMartin. Martin was a skinny, rat-faced, writhing little snake we had to watch forcheating; Jim, the team's captain, an all-around athlete, tried to disrupt ourrhythm with well-timed coughs and sneezes.

Walking off the eighth green,we heard from our teammates at the third and fourth spot, who heard from ourteammates at the first and second spot that the match was within one shot. Pauland I were tied with our opponents; I was 5-over-par, Paul was 4-over, and our"buddies" were 9-over combined. We grabbed our drivers and walked tothe ninth tee box. I quietly advised my partner while keeping an eye on Martinand Jim, "Why don't you hit a three-wood here? You don't need the extra 20yards, just get it in the fairway."

"No, man, I can feel thisone. I'd rather have a shorter shot to the green. Look at all the peoplegathering," he replied. I looked at the three dozen spectators, with morearriving every minute. "If I have a wedge into the green, I'll get muchcloser than an eight or a nine. The shorter the putt, the less chance I have ofchoking."

I assured Paul that he should hit a driver; it's up to theplayer to go with his instinct. Our opponents teed off first, one down the middleand the other just off the fairway, and not too bad in the distance category.

I was up next. Although 310 yards away, I could feel the Mickster'seyes on me. I wasn't his favorite, but he was counting on me. I took a deepbreath, a nice steady backswing and came through the ball. The sweat in my gripcaused the club's head to rotate outward a fraction of an inch, sending the ball240 yards out into the right rough and behind a tree.

Paul said,"Don't worry, you'll get home from there." He collected himself andswung a little fast. Just like I knew he would, he sliced the ball off to theright a couple of yards in front of mine. An expletive came from his mouth and heslammed the club down.

"If I can do it, you can do it. Now let'sfocus," I said. We walked to our balls, watching the crowd grow. If therewasn't anyone there, we could finish the hole easily with a par or a bogey. Butwith this immense pressure, it seemed as if this hole could make or break ourgolf careers. I breathed a sigh of relief when Martin skulled his second shotover the green, but Jim snuck one close to the pin.

It was my turn. Witha tree branch preventing me from playing the nine iron, I was forced to punch aseven. This was a simple shot, but didn't get me very close. I was left with a20-yard chip.

Paul was up. He decided to forget about the scraggly oaktree in his way. He said, as I've heard him say many times, "They say treesare 90 percent air," and he took a wide, firm stance with his pitchingwedge. He looked up at his target, then back at the ball. He looked up at thefans and then eased his head down, directly over the ball. In one fluid motion,he swung the club, and the ball soared. It drifted up into the atmosphere,missing the tree by inches.

As it started its descent, I whispered,"That's a damn good shot," then I yelled to the ball, "Get on theflag!" The ball took one hop, hit the pin, and ended up two inches from thehole.

The crowd went crazy, jumping up and down; but we still had to holeout. I chipped a 20-yarder to within about five feet, and still missed the putt,so I got a bogey. Jim two-putted and Martin chipped one and two-putted. Paultapped his in for the birdie, and there was another cheer from the crowd. Ourteam won by two strokes - even the Mickster was amazed.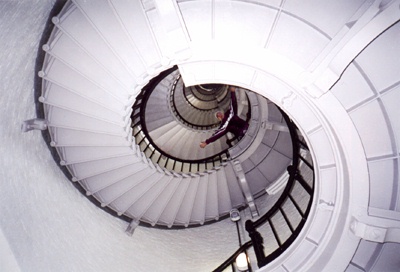 © Anonymous