Blade Runner's Dilemma
January 31, 2012
What would you do if you lost one of your legs? Get crutches? Pity yourself? Or get a new limb. Oscar Pistorius, Olympic sprinter, lost both of his legs when he was a baby. He runs on carbon fiber blades, from which he gets his nickname Blade Runner, that are designed like a cheetah's hind legs. In 2007, a German professor by the name of Gert-Peter Brüggemann began testing artificial limbs. He found that Pistorius has significant advantages over able-bodied runners. For example, the limbs use 25% less energy than other runners. In 2008, the International Association of Athletics Federations, or IAAF, ruled that he was unable to race. However, later that same year they ruled that he could. Currently, the IAAF's ruling is like a seesaw.

The prosthetic limb dates back to almost 3,000 years ago in Egypt. Its use is simple, to replace what was lost. Today there are many different models ranging from a stiff stand-in to a movable arm that can work almost as well as a real one. There are three main parts to prosthesis. The pylon is the skeleton of the appendage; the socket transfers force between the prosthesis and the limb, the suspension system connects the extremity and the prosthesis. Most are made of plastic and carbon fiber. This makes the limb lighter, stronger and more realistic.

Oscar Pistorius was born on November 22, 1986 in South Africa. Oscar's legs were removed when he was 11-months old because he was born without fibulas. He got his first prosthesis at 13-months. He began his running career in 2004 when he won the 200 meter at the Paralympics Games in Athens. Later, in 2007, he finished second in the 400 meters at the South African national championships. He has won many races and has 26 world records.
He disagrees with the IAAF's unwillingness to let him run. He claims that his prosthesis also has its fair share of disadvantages too. Rain, wind, and the quicker build-up of lactic acid in his blood just name a few. Whether or not that tips the scales to a 30% less mechanical work for lifting the body, another advantage, can be debated. I agree with Oscar though. He should be able to race. There are an infinite amount of advantages and disadvantages, so I'd just wipe the slate clean. The day when prosthesis' make a man superhuman, I'll disagree. Until then let him race.
Oscar Pistorius is a great runner. He may have prosthetic feet and his career in running may be being debated, but it all comes down to his great ability to run. He is a classic underdog story of our time. Despite his disadvantage (or advantage), he has set a number of records and accomplished what most can only dream about. Oscar Pistorius is the Blade Runner.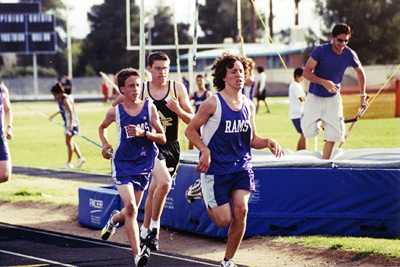 © Andy G., Phoenix, AZ