Landing
MAG
June 9, 2008
We always dreamed of flying –
Being high above all that is human and tangible
Being in a perilous balance between reality and what lies beyond –
We'd watch the birds flutter and sway above our heads
And land, our breath tight in our throats
For the moment the tiny clawed feet would meet
Solid earth.

Now the men with their briefcases and ties –
Bluetooth clinging to their ears,
Creating a mock-insanity as they talk to an unseen companion –
And the families of endless colorful restraints and complaints
Wait, belabored by this ambiguous word "stress"
As the neutral navy pleather clings to the skin
In the waiting area.

We walk through the tapeworm tunnel
Into the cavity that will hold us captive
For the next God-knows-how-many hours.
We find our seat – 37C
And safely stow our luggage in the overhead compartment,
Settling down with the uncomfortable static pillows, longing
For in-flight entertainment.

We don't even bother looking out the window;
The large man in flannel sitting in 37B seems to block
Any chance of a view
And the fake-baked woman with long fingernails
Pulls down the shutter to salvage
Whatever beauty rest she seems to think
She needs.

Later we land,
Crying children muted by the pressure in our ears,
And maybe throw a glance out the window
Impassively
As we wait for the clunk of wheels on tarmac
And think of what dinner may be waiting for us at our
Final destination.

Unimpressive, this idea of travel,
Of flying above trees, houses, clouds,
Even the birds we so longed to emulate,
And we walk out of the air-conditioned, sterilized lobby
Past the smokers and roadside baggage workers,
Only to stop in our tracks,
Look down,
And smile oddly
As we marvel at the optimistic dandelion
Emerging from the sidewalk
On its own timetable

And we wonder how it did it.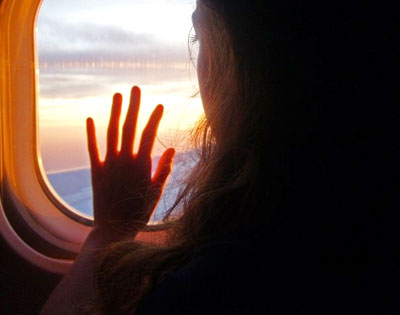 © Megan C., Nashville, TN