The Door to America
September 30, 2012
My heart softly fluttered as I stepped out of the airplane into the long tunnel-like passageway to the JFK airport. My legs wobbled from sitting over 13 hours in the airplane to America, but my mind was wide awake, eager to take in my new environment. The transparent glass walls showed the dark tranquil night sky of New York and the occasional blinking of airplanes decorated the deep dark sky. The narrow passageway was no more than a gray carpeted gateway but to me, it felt like a magical door to a new world called America. All the students of Taegu Foreign Language High School chattered ecstatically, their eyes sparkling in excitement and wonder. The exhausting long trip in the plane was soon forgotten and only exhilaration and anticipation toward what lay ahead remained.
As we made our way to check in our passports, America seemed to warmly whisper "hello". Looking at my surroundings, the fact that I was in America didn't register right away. The joy and excitement of travel was soon replaced with a feeling of doubt, making it all feel like a dream. My mind remained floating in the clouds but the English written advertisements and the diverse faces of people from all over the world told me that this was, in fact, truly America. Holding my breath, I tried to take in my overwhelming surroundings. The JFK airport was so vast and spacious, fit to be called 'America's leading international gateway'. My mind began to compare the current airport I was in to the one in Incheon, Korea and though they were similar in so many ways, something about the atmosphere was conspicuously different.
Our plane had arrived at around 9 P.M. so it was rather peaceful and quiet. The sound of peoples' footsteps and the occasional announcement from the speaker echoed in the air, but my excited heart beat seemed the loudest of all. We soon arrived at the immigration counter and 4 men each sat behind a rectangular gray counter surrounded by a low glass wall. I stood in line, half-awake and half-dazed by this extraordinary moment. My turn came soon enough and I found myself standing in front of a slightly heavy man with a friendly round face. He smiled respectively and I tentatively smiled back. I handed my passport to him and my eyes grew larger in astonishment as I watched his deftly moving hands, stamping several papers and lastly my passport with speed. 'How many of you are going to visit the United States?' he asked. The question was friendly enough, but I was taken by surprise for it was not the question I had expected and thus, unprepared for. I quickly answered, 'about 50' in a hesitant voice, positive that this was not the right number but luckily, he didn't seem to find anything strange about that.
After a quick identification finger-print check up and a picture, I went through security, into the baggage retrieving area. I stood patiently as I waited to find my red suitcase make its way through the black tunnel into the long circular rail. I mistook a similar looking red bag for my own several times and I soon found myself frowning impatiently. The bags continued to clunk their way down the rail and several voices exclaimed that they've found their bags. My red suitcase appeared soon enough and I ran, almost too eagerly, to retrieve my luggage. I quickly skimmed it to make sure it was mine and sighed in relief as I saw the tag with my name on it. After everyone found their suitcases, the students of TFLHS gathered near the exit and after a quick attendance check, we all headed toward the entrance area of the airport two by two.
My body was heavy with tiredness but something inside me leaped with glee. The thought that I was truly in the US, the home of the Statue of Liberty, Hollywood, the Ivy League and much more made my fatigue disappear, as if it had never been there. A big glass door with a black frame was now the only thing standing between us and America. The automatic door slowly slid open and everyone's eyes bulged in wonder and amazement at this exotic but strangely familiar looking scene. An African-American woman wearing a white Abercrombie t-shirt eyed us with faint interest and for the first time, the realization that we were no longer citizens of the country, but foreigners, hit me by surprise. Every little detail caught my interest. All sorts of people, from those sipping a cup of Starbucks coffee to those standing in line to grab a donut at Dunkin Donuts, amused me.
The short walk into the John F. Kennedy airport may have been just a very small part of our entire cultural experience in America, but to me, it was much more. It was more like a historical moment, an unforgettable moment marking the beginning of TFLHS's adventure to a new world, a sign that this trip will be one that each of us would never forget, a memory that we will forever cherish.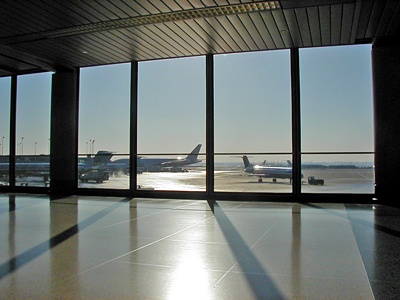 © Greg K., New Lenox, IL