THE FRANCE BEAUTY
January 27, 2013
The france is a awesome place to visit.i had a good time.But the very best thing that attracted was its life style,food and their wedding and the environment

FRENCH FOODS:

The French people are very busy and hardworking. But grown-ups enjoy meeting friends in a sidewalk cafe to sip a drink and talk or watch tele.Young people get together with their companions to enjoy popular and latest music on recordings or concerts. They also like going around together on their motor bikes. The quick meal, the Repas du jour of France is "biftek"(steak) and "pommes frites"(french-fried potatoes).Dejeuner, the mid day meal is customarily the main meal of the day.

All French people find pleasure in foods. French cooking is famous all over the world. there are many regional specialties, such as "bouillabaisse"(fish soup) of Mediterranean and "escargots"(snails) of Burgundy. French people are very crazy in preparing sauces. They prepare 100 kinds of sauces using various delicacies. But commonly they use wines, mushrooms; tuffles.These sauces add flavor to fish meat and poultry.

French pastries are work of art. Stews, omelet's and other egg dishes and different kinds of ham play a major role with their taste. No meal is complete without long, crisp loaves of bread. Wine is usually served at both the "dejeuner" and "diner"(evening meal).In general, traditional French food is not very spicy. This has to do with a desire to let the natural good taste of the food shine through and not cover it up with overwhelming flavors. The French do use spices to cook with, just in smaller quantities then what you may be used to. Many people who visit France for a while find themselves craving something spicy, and many French people would respond that this is evidence that their taste buds have become lazy with too much over stimulation.

L'apéritif( Appetizers)Tapenade and olives is a famous.L'entrée (Starters) Foie is a famous starterRaclette.Les Plats Principaux - Famous Main Dish.Le Fromage - Famous Cheese are really working out well.

FLORA AND FAUNA:
The plains of France show 25 species of orchids, a wide range of wild roses, periwinkle, heather, fern and mushrooms, blackberries, raspberries, and of course blueberries. The "Massif" is a garden Vosges in France, in the beech forests to the higher located meadows, with striking flowers such as gentian, catchfly and white and pink orchids. Anemones, the purple violet, yellow arnica and foxglove are also found. France has a great range of natural habitats, and the diverse environments lead equally to a great diversity in the wildlife to be found - some species are found quite generally across France while other species are restricted to quite restricted areas of mountains or other specialised environments

Because of the large size of France, and the large percentage of the country that is still rural and / or forested, there are many intact natural habitats. There is a significant difference in climate between the north of the country, the south of France, and the Mediterranean region is also a important factors in explaining the distribution of wildlife across the regions.France has a rich wildlife with boars, chamois, brockets, and various deer species. In addition the territory offers a fascinating bird world with some 150 species including raptors such as buzzards, owls, and peregrines. The rivers hold eels, pike, perch, carp, roach, and salmon.

Roe deer, red deer, wolf ,fox,chamois,ibex,badger,brownbear are commoen wild animals of france.There are semi-wild horses like Camargue horse and Ardennes horse is also found.Alpinmarmot,hare,ragondin,red squirrel,beech marten,genet,lynx are some mammals of these forests.Hornets,playing mantis are wild insects found on grasses odf Mediterranean region.Wall lizard and grass snake are reptile varities.Dolphin and jelly fish are found on aquatic regions.

An extensive protection program has been developed to ensure the survival of the Grand Tetras (capercaillie) or black grouse of which only a hundred are currently recorded in France. Of course you can also spot black woodpeckers, whitethroats, nutcrackers, quails, pheasants, thrushes, blackbirds, woodpigeons, and beavers in their natural habitat along the banks of the Moseley.

Gallic rooster is a national bird of France,. Hedgehog and shrew are common, as are fox, weasel, bat, squirrel, badger, rabbit, mouse, otter, and beaver. The birds of France are largely migratory; warblers, thrushes, magpies, owls, buzzards, and gulls are common. France has a great range of natural habitats, and the diverse environments lead equally to a great diversity in the wildlife to be found - some species are found quite generally across France while other species are restricted to quite restricted areas of mountains or other specialized environments.

WEDDING TRADITION OF FRANCE:
The origins of marriage customs, we find that marriage has evolved through three general stages: marriage by force or capture, marriage by purchase or contract, and marriage by mutual love. The control of marriage has fluctuated between religious and civil control. Today marriage is governed by civil law and ecclesiastical canon law. Although adherence to canon law depends on one's belief in a particular religion, no one can escape the laws of the State. Most couples celebrate their wedding in the presence of a priest, rabbi, or minister, yet their marriage would be invalid if they did not register it with the State as well. A day before wedding, the bridegroom entertain his friends at supper on the eve of the wedding. This is known as the "men's mess." Today this event is usually called a "bachelor party event".
The wedding procession begins at the home of the bride. Children, relatives and friends lead the procession to the church along with musicians. The popularity of a bride wearing a white wedding gown on her day of matrimony began in France several hundred years ago. The custom of having fragrant flowers as decorations and bridal bouquets has also been popular for centuries. Each flower represents a special and unique meaning to the bride and groom, and especially fragrant flowers helped freshen things up a bit, before deodorant and perfumes were invented. Wedding bells in France were usually heard in spring and summer when it was warm enough for everyone to bathe. Still practiced in small villages today, is a traditional French custom, for the groom to call on his future bride at her home on the morning of their wedding day.French marriage customs demand that the couple is showered with rice and wheat as they emerge from the church. In southern parts of France dragees (chocolates covering almonds, sugar or nougat) and coins are tossed to children waiting at the doorstep. The grains and dragees symbolize fertility and prosperity.

As he escorts her to the wedding chapel, the town's children stretch white ribbons across the road, which the bride cuts symbolizes cutting down the obstacles and hurdles. The groom usually walks his mother down the aisle just prior to the main wedding procession. .As the newlywed couple departs from the wedding site, laurel leaves are scattered in their path for them to walk over.

The wedding reception according to the French marriage customs is held on the day of the wedding. Guests bring with them small cakes and stack them in a pile as high as possible. The bride and groom are expected to kiss over the pile without knocking them over. This is said to symbolize a lifetime of prosperity. The French wedding customary cake is known as" croquembouche" and is made of small cream filled pasty puffs piled in a pyramid and covered with caramel glaze and spun sugar. The cotton copper bronze tin pearl ruby sapphire diamond emerald are traditionally gifted by the guests.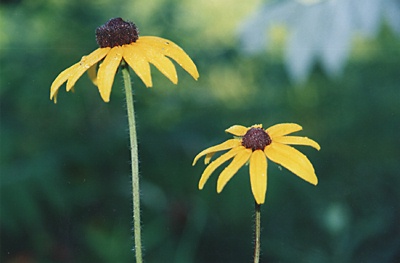 © Allison S., Eau Claire, WI