Hunter's Point
November 3, 2011
Summary:
I was signed up almost immediately. I was stuck out in the Wash Room, to clean out the shower floors and scrub down the toilet stalls. This day in particular though, we were separated so as I cleaned the Wash Room, Tracey cleaned the kitchen, others did laundry and so on and so forth. While down on my hands and knees scrubbing away a stubborn stain in the ground a voice approached me. It scared me, I gulp in my breath, afraid to scream. The voice says to me, "Don't say anything, and don't look up." I wasn't even planning to but my head and mind were in two separate places. I slam my head back down so the voice continues, "Listen to what I'm about to tell you," Quickly I nod, "This just may be another Holocaust. I know you Paige," My heart stops, "I want you to live. At this point you can save no one but yourself." The lips continued to move, I felt them against my ear, but the words became more and more foreign. My heart was beating too loud and my inner voice continued to ask Who is this? My mind began begging as the lips moved slower and slower, Please Paige think! The lips pulled away,
"Wait!" I call, my head was risen now, but the person stood behind me.
"Why?"
"Repeat what you said, please, slower this time. I'm hard of hearing,"
I could here the smirk in their tone, "If only you knew who you were lying to." As the footsteps became more and more distant, I release out a sigh. Without my awareness I begin crying loud, long sobs. My last sign of hope, I let slip away. I was never fit for survival of any sort. Me nor my Mom. Not as Paige Macy or Hunter. I was going to die. That was a real reason to cry.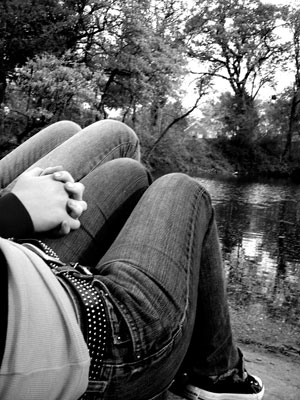 Allie rae J.
Hunter's Point