Talkin' Upcreek America Blues
MAG
Back down in young Dixie, man, life there is old.
Allmy memories there ha' been bought up and sold.
Like Ms. Till, my friend, whodesperately wanted a sliver,
Of that King-led army 'cause her babe's in theriver.
And all the glass-bottomed soldiers who followed him down,
They justplay the friend 'cause they want the King's crown.
Sure they all cried andwhimpered when they heard the news,
But now they're talkin' 'bout thoseUpcreek America Blues.
Well, that was the blue river novel that started itall,
Born dark, dusty, dirty long before that fall.
(But it's stoppedflowin' since then, yah, it stopped flowin' all right.)
It saw the men withtheir guns and their ropes and their girls,
Like typewriter-poets who beenlost in blue curls.
And the blue mountain valley that runs to the sea,
Itsaw 'em too, but it just isn't free.
So it sits around crooked with itsmusical booze,
Singing sonnets 'bout the Upcreek America Blues
And so man,it was just the river,
Running swift to the sea 'till the sea runsdry,
Picking up Tills and whatever else happens by.
A river don'tcare.
Nah and God don't either, least that's what they say,
Now thatthey've beat him all bloody and hid him away.
Now's he's walking 'roundsideways 'cause his hair's all been shorn,
Still hunting and looking for thatreason to mourn.
But it's nowhere, no how and ain't no one got it.
So helays in his bright ditch, nursing the bruise,
Wondering how came the UpcreekAmerica Blues
No, they ain't got 'em up North where they live as theyshave,
Where they sing of freedom while beatin' their slave.
And thoughLindbergh's babe lies dead in the wood,
He too searches frant'cly 'cause hismiss said he should.
And all the meanwhile Big Bruno's runnin',
(And he'srunning faster than fast ever ran)
'Cause he knows that behind him old St.Louie's gunnin'.
And he knows if he stops he will take the abuse,
That theyspoke of in their Upcreek America Blues.
Well, he tired, they got him, heburned on the spot,
Like a shaker of salt in a mixed rummy shot.
But welloutside this nuthouse, where storm-norm was the man,
Miss 'merica was burningherself with the pan.
And all the ghost critics who came out to judge,
Theyknocked out their allies 'cause they held His grudge.
Then they ran to theirauto-drip-lava-lamp muse,
Who told them to sing her Upcreek AmericaBlues.
Now honor and pride both been gunned to the ground,
And they's lyingthere moaning and rolling around
'Till somebody, Mrs. Moses, tells them to gohome,
(Yes, she tells them to quit 'cause she knows this ain't the place theybelong).
So they're shot down unloaded in the place where they roam.
Andthe existential candy man and with him the Jack of Hearts,
Are shot down fromtheir nooses, for practicing their art.
Now the only place they show up is inice cream and tattoos,
And in anyone who knows and loves the Upcreek AmericaBlues.
Now we take the train out westward to meet Garrett and the Kid,
Onea collaborating horseman traitor who coughed up the lowest bid.
And the othera flamingo-writer, living life in honest pain,
Who couldn't 'scape thedown-spouting gutter that kept drowning him in rain.
(And the hard rain hespoke of fell harder than hard on that soul.)
Well those two rode off withtheir friend, a lousy image of a man,
Who found his Miss 'merica with oldClarky and their clan.
And together up they saddled her until they blew afuse,
And out came bleeding cursedly the Upcreek America Blues.
Then theyheaded back to the junglish East where they happened upon a kid,
Who scornedthem, cursed them, pulled and shot them 'cause they knew more than he did.
Andthe people praised and hailed him for being a murdering thief,
'Cause herobbed the world of knowledge, much to their relief.
But back up on old Sinaithe four prophetic children sing,
Only they know life's a hollow hole and abell that's ceased to ring.
And kid, those friends who think and prey on noone but the man,
It's they who are the blessed and saved for straying fromthis land.
But it's to you, my man, and they say only you mustchoose,
'Bout whether to thank her kindly or sing the Upcreek America Blues.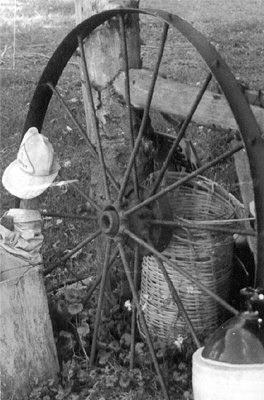 © Anonymous