The Persistence of Memory- Theory of Time
January 17, 2013
We have the idealistic power to change time, though we cannot control it. Salvador Dalí's painting The Persistence of Memory challenges this idea. We are slaves to time; it rules us in such a fashion that scares us. Time frightens our stability and dares our actions. We cannot understand time even though it's the most fundamental component of our existence. We act as if labeling time will make us believe we understand it; we try to measure it out, constrain it, and define it. However, time is something that is much greater than any increment. The Persistence of Memory allows us to create an understanding that time is limitless, however our time is limited.

I first noticed this painting in my fifth grade art classroom. We were studying surrealism, "a movement in art during the 20th century that sought to release the creative potential of the unconscious mind" (Surrealism). Since that day, The Persistence of Memory has left a lasting impression on me. It constantly reminds me never to waste my time, as I can never be sure of how much I have left. I've always made a connection with things not just for what they are but for what they mean to me. I believe that the material world around us holds much more than what meets the eye.

Salvador Dali has taught me that time answers to no one, we must answer to it. The melting clocks challenge the stability of time, as it vanishes before our very eyes. We cannot relive a second of the past, but we can dare the future. As time passes by, the beauty of life stands in the background. We must bring that beauty forward and only with success the passing of time and the beauty of life will become one. It is important to face the reality that time will go on no matter how we spend it. We shall not underestimate the mass of time that stands before us, for we may have much less time than we believe. The value of time is the most important thing we will ever learn, and we will know nothing until we learn it.
Fortunately, I learned the value of time at a young age which has allowed me to prosper intellectually. Time moves at a pace so quickly that we cannot stop it; we cannot catch it or even change it. As the seconds slip away, the world is constantly spinning and time is always ticking. Underneath the hierarchy that time represents, there's us; we decide how we utilize it. Time management is a skill greater than gold to acquire. It is the precipice to future success. Prioritizing time in will determine the extent of our future prosperity. There is not a second to waste mingling in the distance as our live run past us. We must learn to master time and "... govern the clock, not be governed by it" (Gold Meir).

Time can change the world. It can take us places, not only those that are found on a map-- but those that are found in our hearts. I've devoted my life to making sure my time counts. In 2011, I went to La Chimpanilla, Nicaragua with my fellow "buildOn" members to build a school for the children there. This community became my family; together we put forth our most astounding effort to build La Chimpanilla a school. In return, time challenged my strength and perseverance; but soon it granted me the power to change lives. This school held the key that unlocked the poverty that chained them, and I had to help set them free. That is when I realized what Dali had wanted me to learn; the true value of time, and that every action has a reaction.
The Persistence of Memory captures the wings of time, freezes it, and lets it melt away. From the time I first saw Salvador Dali's highly symbolic masterpiece, I have always given meaning and value to every second of my life's journey. I see things differently now, I see the world around me as a metaphor and a symbol of life itself. It is important to understand that "lost time is never found again" (Benjamin Franklin). Time management is essential, from it I've learned that the world is going to test us, it will beg us, and it will bless us.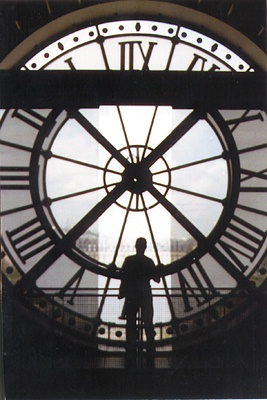 © Kelly G., Norwell, MA