Material Nation
MAG
Everywhere I go, people are speaking on their cellular telephones regardless of their surroundings. This occurs when people are walking around a lake or through town, or driving. I have even seen a person attempting to speak on her cell phone while ordering ice cream at Dairy Queen, thus speaking to two people at once.

As the extravagance of technology increases, people begin to take less joy in the simple pleasures of life - joys that don't cost money - from observing puffy clouds, playing with children to thinking or reading. And it is not just telephones that corrupt; excessive value is placed on items from computers to automobiles. Many things are purchased merely to show off. Do you really need a cell phone that plays games, shows movies and takes pictures? No, cell phones should be purchased to use in urgent situations. You do not need to use your telephone when you are at someone else's house or in a restaurant.

Technology and possessions do not bring joy. While some technology is necessary, it can get ridiculous. Each possession just makes us want more, while uncomplicated pleasures can be enjoyed anytime.

Instead of spending our time buying a third television or looking into the newest cell phone models, we should be acting more productively to improve the world by volunteering, for example. Or, we should reconsider playing Nintendo or taking pictures on our telephones and instead read a book or imagine what shapes the clouds carry.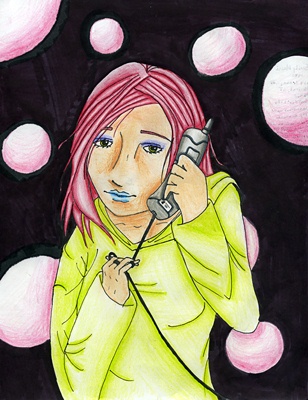 © Anonymous